Upcoming Carnival Event in Salvador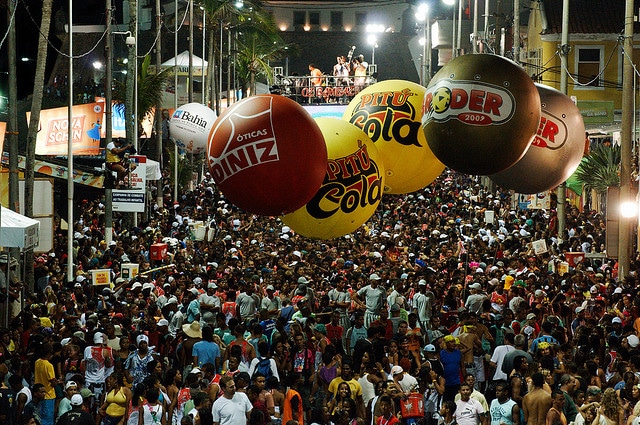 Salvadoris the capital city of Brazil's northeastern state Bahia, it is well known for Portuguese colonial architecture, Afro Brazilian culture, tropical coastline and unforgettable Salvador carnival. For those who are coming to Brazil in this season have a chance to join the biggest carnival event of the earth. Salvador Carnival is marked as the greatest street party on the planet and it attracts the participants from around the globe.
Salvador carnival event celebration lasts for almost 10 days including pre and post carnival parties. Brazil surely knows how to party and this can be shown during this event, millions of visitors come to take part in this crazy fest, people, troops, participants gather on streets to enjoy the festivities every year. Crowd parties on the famous Brazilian Samba and bossa nova music along with electric trios. Huge trucks equipped with sound speakers move in entire city during the city. People gather and dance on the streets all day long. These truck cover Batatinha, Pelourinho, Dodo, the neighborhood of Barra, Ondina, and Osmar in the downtown area.
People dance on the beats, those you want to look similar especially the troops purchase similar clothes to stand out from the crowd. They buy similar t-shirts representing each block known as Abadas, you can choose to buy the VIP tickets which give access to sound boxes, beverages, and food. If your budget doesn't allow you can opt for the free version and enjoy the party at fullest.
Event Date: February 28, 2019 to March 6, 2019
Address: Salvador, Bahia, Brazil
How to reach: Reach Salvador via air if you are not Brazilian, if you are localities you can visit the place by Car, Taxi or Bus
When you visit Salvador, you have many other options along with Salvador Carnival, you can visit tourist attractions like:
Mercado Modelo
Porto do Barra Beach
Rio Vermelho
ElevadorLacerda
Bay of all Saints
IIha Dos Frades
Church of NossoSenhor do Bonfim
Sao Francisco Church
Barra Lighthouse
Praia De Itapua
Another major event hosted by Salvador is Lavagem do Bonfim which is a spiritual event held every in the city of Salvador in the month of October.