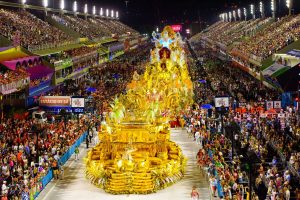 The parede through the Sambodrome is a major tourist draw for Rio and tens of millions watch from home.
Carnival parades were postponed for April, according to RioCarnaval.org the new dates for the celebrations are from April 21st through April 23rd and April 30th in Rio and Sao Paulo. The original dates were from February 25th through March 04th.
The decision was made due to current increase of cases of Covid-19 pandemic in Brazil, and an increase of Omicron varian spreading, specially in Sao Paulo and Rio de Janeiro.
The postponing of the festivities was decided by Mayor Eduardo Paes, Mayor Ricardo Nunes, health officials and representatives of samba schools of both cities. According to Paes, the exact way in which the celebrations will take place are yet to be announced. What has been decided for now is Covid-19 testing and vaccination checks before entrance will be mandatory.