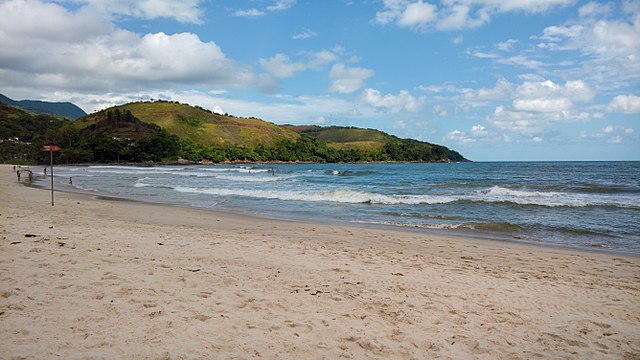 Are you visiting Brazil anytime soon, then don't miss the opportunity to visit the most loved beach of Sao Sebastiao in Brazil that is Maresias Beach.
Sao Sebastiao is a municipality, located on the southeast coast of Brazil, in Sao Paulo state. The municipality is so old as it existed since 1636. There are plethora of things to do in the state but what gain the most visitors are Maresias Beach, In total the state has almost 37 which covers almost more than 100 km of coast of the city from north to south. In Sao Sebastiao some of the beaches is so clean The surface of the water is as smooth as a mirror. The reflection of the surrounding making it more pristine.
Maresias Beach Maresias is a Atlantic Ocean beach located on the northern coastline, Brazil. The seas receives high tide throughout the year hence it is named so.The sea generate high tide, which makes it one of the most popular surfing destination of Brazil, it also host some annual tournaments. You will see the yellowish sand spreading in the length of more than 5 km area. Beach side has many lively and amazing pubs, shops and restaurants which attracts tourists walking on the beach, young generation can enjoy nightlife in the night clubs.
Maresias is the favorite beach for those who are local resident or who stay in nearby cities, they come here for vacations and to chill out in the lap of nature. The sea has strong surfs, provoked by a submerged plate appreciated by divers. The beach is surrounded by houses, sophisticated hotels, and modern restaurants, bars and clubs that guarantee very lively nights.
It gives a bunch of option when it comes to sports, you can do water sports, like surfing diving, paragliding etc or you can simply rent skates and skate on the walkway of the beach or you can play beach volleyball.
How to reach:
If you are localize you can opt for personal car or board a bus, you can take a bus from Sao Paulo, Santos and other nearby big cities to the Maresias.
Maresias is 180 km far from the city of Sao Paulo. The closest international airports where you can land is Cumbica and Congonhas.
Other point of attraction in Sao Sebastiao:
IIhabela Beach
Ubatuba Beach
Guaruja Bay
Praia Grande
Gurral Beach