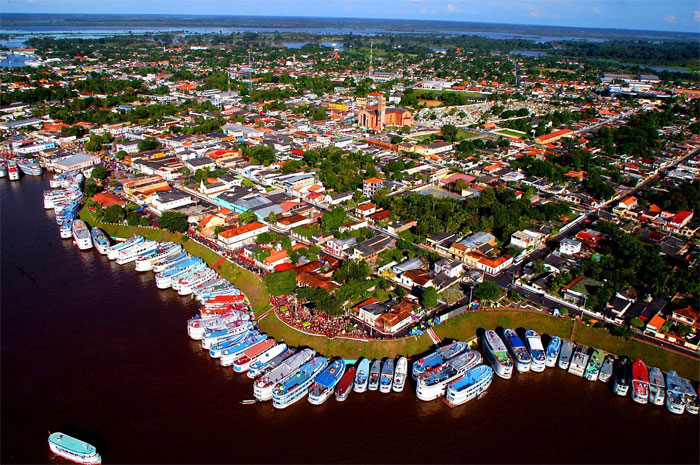 Plan to see an island of paradise when you take a trip to Parintins. This Brazilian city
should be high on your next vacation list. You can travel to the area with the family, or
you could go on a romantic trip with your partner. Regardless of who accompanies you
on this vacation, you are bound to have a great time, which you will never forget. There
are many sights to see, and a lot of activities to participate in. Plan ahead and get the best
deals on hotels, tickets, tours, and flights. Be sure to purchase a Brazil Airpass to help
you secure the rate for your plane tickets.
History of Parintins
Parintins was founded in October of 1852. The city is located on the Tupinambarana
Island and on the riverbank of the Amazon River. The city went through a
transformation, and it was divided by the colors red and blue.
Fun Fact: This is the only place in the world where Coca-Cola advertisements are all
blue, with no red.
What to do in Parintins
There is a lot for you to do when you travel to Parintins. The city is well-known for its
folklore festival, which is held in June of each year. This is the second largest festival that
is held in Brazil; second behind the Carnival held in Rio de Janeiro. Each year, there is
a festival held to celebrate the legend of a resurrected ox. There are parades, flamboyant
dances, singing, and other festivities that take place at this event each year. This festival
only became well known throughout the country in 1996, despite how large it was. This
was due to the musical group Carrapicho releasing a song about the festival, which
became a hit.
Even though this is a big event in Parintins, there are other activities for you to participate
in when you travel to this city, regardless of what time of the year you plan to take your
trip during. The tourism in this city grows each year, and the people of Parintins have
become just as much a part of the tourism as the attractions and sights have. There is the
famous healer, Dona Maria Angela, as well as the popular Simon folklorist, Capricious
Bumba. You can also tour the amazons, relax on the beaches, go fishing, and visit the
many museums in Parintins.
Hotel Accommodations
Finding a hotel in Parintins is not hard to do; you can find accommodations for a large
group, or a small group. There are a variety of hotels, beach resorts, vacation homes, and
apartments that you can rent when you travel to this Brazilian city. Some of the most
popular hotels in Parintins are the Amazon River Resort Hotel, the Pousada Tupana,
Hotel Palace, the Ilha Bela Hotel, and more.
Each of the hotels offers you something different, from swimming pools, restaurants,
quality rooms, and more.
Weather in Parintins
When planning your trip to Parintins, you will need to research the weather conditions for
this city. Knowing the weather could help you plan your activities out better, including
scheduling hikes, tours, water sports, and other activities that you may participate in
while you are on vacation. The months in Parintins that experience the most rainfall
include January, February, March, April, and May. February is the wettest month in this
Brazilian city, and the driest month is September. The warmest month in Parintins is
October, and the coolest month is April.
Traveling in Parintins
While searching for flights and airline tickets to Parintins, you may notice that you will
need to schedule multiple flights before you reach your vacation destination. This could
be expensive, which is why it is a good idea to purchase a Brazil Airpass. The airpass
will save you money, and it will save you time. Make sure you purchase your Brazil
Airpass well in advance. You will not be permitted to buy this airpass once you have
entered into Brazil. Ask your travel agent for more information pertaining to the Brazil
Airpass.
Plan Your Trip to Brazil
Plan a trip to Parintins, and see one of the beautiful cities in Brazil. You can schedule
tours, and participate in a variety of activities. If you go to Parintins in June, you can
celebrate in one of the biggest festivals that Brazil has to offer. Starting planning your
vacation today, and be prepared to have the time of your life!