Fernando de Noronha, Pernambuco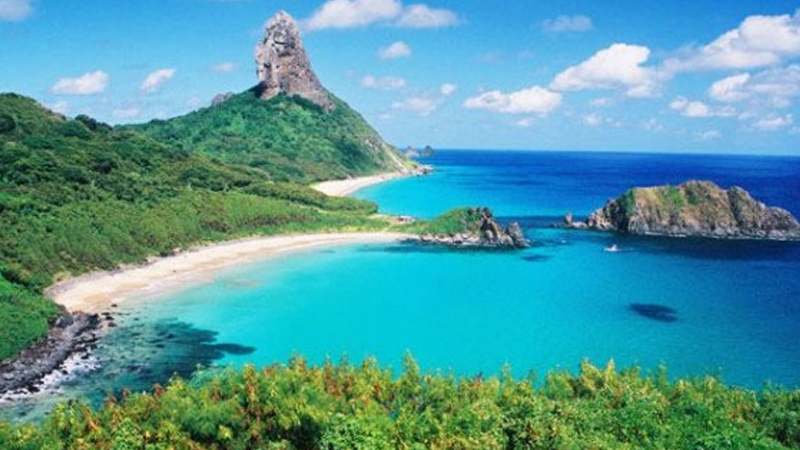 When you plan your vacation to Fernando de Noronha, be prepared to have an amazing trip. The sights are beautiful, the food is delicious, the hotels are fabulous, and the people are great. This Brazilian city is known for its tourism, as well as a large variety of species that travelers can see while taking tours around the area. It is important that you purchase your Brazil Airpass before you book your tickets; this will ensure that you receive flights at an affordable price.
History of Fernando de Noronha

This was one of the first cities in the new world, due to its location. The city now has more than 21 islands that line the Brazilian coast. Fernando de Noronha was declared a World Heritage Site in 2001 by the UNESCO in order to protect the dolphins, tuna, marine turtles, sharks, and hawksbill turtle, in addition to other species that are endangered or threatened.
What to do in Fernando de Noronha
When it pertains to finding something to do in Fernando de Noronha, you will always find something. If you want to visit the beach, there are plenty of those in this Brazilian city. Some of the popular beaches that you can go to in Fernando de Noronha are Baia do Sueste, Baia do Sancho, Cacimba do Padre Beach, and Baia dos Porcos. To get your share of history, be sure to visit the Aberto da Tartaruga Marinha de Fernando de Noronha Museum, or the Museu dos Tubaroes. You could also visit the awesome Shark Museum to learn interesting facts about sharks. If you enjoy horseback riding, be sure to plan an outing at Passeio a Cavalo.
There is always something to do in Fernando de Noronha, which is why this Brazilian city is high on the list of vacation destinations that offer great tourism.
Hotel Accommodations
Purchasing tickets to Fernando de Noronha is important, but your hotel accommodations are just as important. You do not want to arrive to this foreign city without a safe and secure place to stay while on vacation. When you book your hotel accommodations ahead of time, this gives you the opportunity to make reservations for a hotel venue that has everything you are looking for.
If you want to stay in a hotel that has a variety of luxury amenities, you are in luck; Fernando de Noronha has plenty of hotels that meet this requirement. Eco Pousada Teju Acu and Pousada Maravilha are two of the most popular luxury hotels. Travelers also enjoy staying at The Dolphin Hotel while on vacation in Fernando de Noronha.
Spas, swimming pools, great restaurants, bars inside of the hotel, and recreation activities are great, but you want to make sure you are getting great customer service as well. Since you are traveling to a foreign destination, make sure the hotel you stay at has someone who speaks your native language. This is important when you want to communicate with the hotel staff during your trip.
Weather in Fernando de Noronha
Fernando de Noronha is a popular vacation destination due to its consistent climate. If you want to travel during the warm and sunny months, be sure to plan your trip between the months of December and February, as well as June, September, and October. The humidity in Fernando de Noronha is highest during the months of April through July. If you want to avoid rainfall, do not travel during the months of January and February. The driest months on this Brazilian island occur between the months of September and December.
Always be sure to check on the weather before you make plans to travel to Fernando de Noronha. You do not want the vacation to be ruined due to weather. When you plan your trip according to the weather conditions, you can almost always guarantee that you will receive the experience that you want.
Traveling in Fernando de Noronha
Taking a vacation to Fernando de Noronha can be a great experience, but the planning could be less entertaining. Even so, you will want to make sure you plan ahead, and plan well. One of the most important steps in the planning process is selecting flights. When you book your tickets, you want to make sure you get the best deal that is possible, which is why you should purchase a Brazilian Airpass. When you purchase an airpass, you are guaranteeing the rate for flights that you will have to take throughout Brazil, in order to reach your vacation destination in Fernando de Noronha. The Brazil Airpass is a necessity for many, but remember that it cannot be purchased once you are in Brazil.
Time to Start Planning
Do not waste another moment trying to decide which Brazilian city will be your next vacation spot; choose Fernando de Noronha. You will need to plan ahead by checking on the weather conditions, researching the best hotel options, and finding the best flights to Fernando de Noronha. Start planning your trip and begin having fun the moment you arrive in Fernando de Noronha.