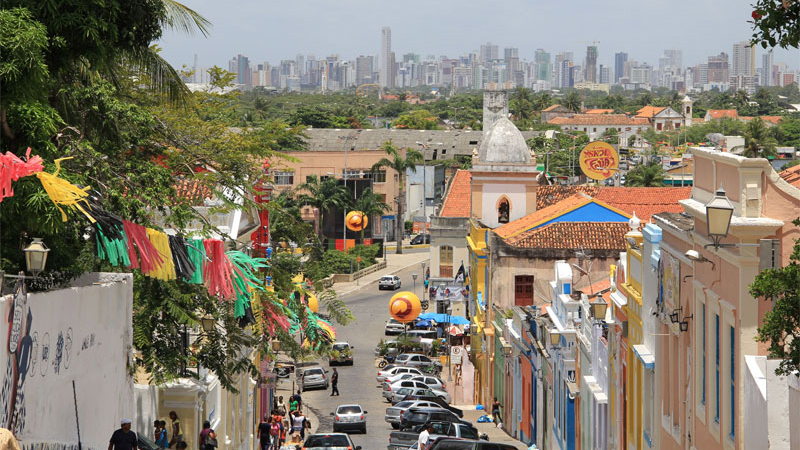 Plan a trip to Olinda and be amazed with the rich culture, historical landmarks and sites,
art, entertainment, music, and beautiful architecture. The city is set on a scenic tree-lined
hill in Brazil. This is one of the most picturesque cities in Brazil, so be sure to have your
camera ready, and your tripped well-planned. To make sure you get the best prices on
tickets and flights, be sure to purchase a Brazil Airpass.
History of Olinda
The economy in Olinda consists of art-craft, the transportation industry, commerce,
and tourism. Olinda was settled in 1535. The history of this city is relived each year
during the Carnival. Many cities in Brazil charge for admission to Carnival; however,
admission to Carnival in Olinda is free. Most of the buildings in Olinda date back to the
era or reconstruction; however, some were built during a later time period. In 1982, the
UNESCO declared Olinda a Historical and Cultural Patrimony of Humanity.
What to do in Olinda
When in Olinda, the tourism is great, so there is always something to do, or see. The art
lover can visit the Museu de Arte Sacra de Pernambuco while on their trip to Olinda;
they could also visit another art museum, the Museu de Arte Contemporanea. The
art museums both showcase the local tradition of Olinda. If you want to see a more
traditional style of work, you should visit the Angola Mae while on vacation in Olinda.
While Carnival is one of the most popular festivals in Olinda, the city is lively outside of
this annual event. You could relax on the beaches, or visit the Mercado da Riberia to visit
many of the shops in Olinda. Some of the places that you could dine in when you travel
to Olinda include the Officina do Sabor, Estacao Café, and Maison do Bonfirm.
Hotel Accommodations
Booking hotel accommodations for your trip to Olinda is extremely important, so be sure
to make these arrangements well in advance. The staff at Pousada do Amparo speaks
English, and they are eager to make sure your stay is as pleasant as it can be. This is a
classy hotel that was originally two 17th
the entire hotel.
Albergue de Olinda another great hotel that looks out on the sea. The rooms at this hotel
are referred to as dorms. You can stay inside of the dorms at this hotel; each comes with
a kitchen and a pool. If you do not want to stay in a multi-room dorm, you could elect to
stay in a single room. Pousada dos Quarto Cantos is another hotel that many tourists stay
in when they travel to Olinda. The size of this room, and the number of bathrooms inside
of the room typically determines how much it costs to stay at this venue.
Weather in Olinda
The odds of enjoying your trip to Olinda are great, but not knowing the weather
conditions could decrease those odds. You will need to learn as much about the weather
before you begin planning your vacation activities, and before you start packing the
clothing, accessories, and necessities that you will need while on your trip in Olinda. If
you travel between the months of April and November, expect to experience the most
rainfall during these months. February is the driest month in Olinda, and August is the
wettest.
century houses. There are gardens that surround
Traveling in Olinda
Before you buy tickets for your trip to Olinda, make sure you have purchased a Brazil
Airpass. This will give you flexibility with your flights, in addition to locked-in rates on
your tickets. It is necessary to travel to multiple cities throughout Brazil before you arrive
in Olinda, and without a Brazil Airpass, this could be expensive. Inquire about the Brazil
Airpass with an airline representative, or the travel agent that you are using to help plan
your trip. The Brazil Airpass must be purchased outside of Brazil.
Take a Trip to Olinda
You should take a trip to Olinda when you want to visit a city in Brazil that is full of
beauty, entertainment, and a great atmosphere. You can always find something to do
while you are on vacation in Olinda. Be sure to lock in your rates for flights and tickets
by purchasing a Brazil Airpass.