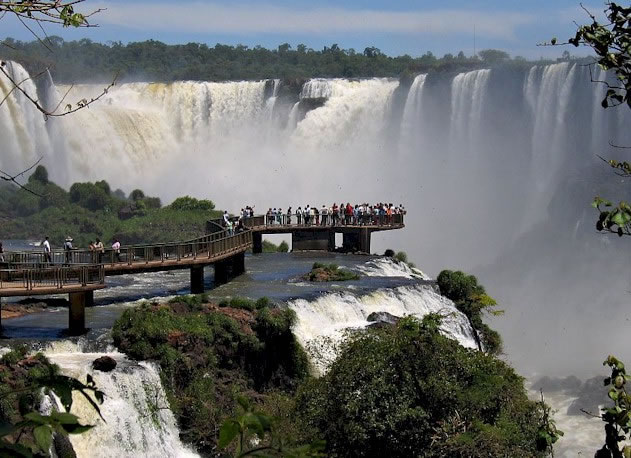 When you are ready to plan a fun-filled trip to Brazil, make sure you have Foz de Iguacu on the top of your list. This is a beautiful city in Brazil that is known for its cultural diversity and tourism. There is always something for you to do while you are on vacation in Foz do Iguacu, regardless if you are traveling in a large or small group. Be sure to purchase a Brazil Airpass before you schedule your flights to this city.
History of Foz do Iguacu

Foz do Iguacu is the seventh largest city in the state of Parana. This Brazilian city experienced a rapid growth in population, due to the large number of years that the Itaipu Dam was under construction. Even though Foz do Iguacu is not a small city, the edge that accompanied that frenzied growth has since decreased. However, the tourism in Foz do Iguacu remains great.
This city has gone through multiple name changes; the first name was Quedas de Santa Maria – a name chosen by Spanish explorer Cabeza de Vaca.
What to do in Foz do Iguacu
While you are on vacation in Foz do Iguacu, there are so many sights to see, activities to do, and places to dine in. You, and those traveling with you, can do some shopping while on your trip to Foz do Iguacu. You will have the opportunity to experience the rich culture in this Brazilian city; enjoying all that this beautiful land has to offer.
Some of the sights that you must see while in Foz do Iguacu include the Parque das Aves, the Centro de Recepao de Vistantes, and Itaipu. In addition to seeing more than 800 species of birds, you can visit the second largest hydroelectric power station that supplies most of the electricity for the city, or you can participate in a variety of indoor and outdoor activities when you travel to Foz do Iguacu. Take the family on a safari, or enjoy the Foz do Iguacu City Tour. If you are traveling with a group of adults, be sure to enjoy the folklore dance and dinner show. You could also be adventurous while on vacation by taking the Iguassu Falls Combo Tour.
Hotel Accommodations
When you are making hotel accommodations in Foz do Iguacu, you will not run out of options. There are a variety of hotels, resorts, and rental properties that you could choose to stay in, regardless if you are staying in this Brazilian city for a few days, weeks, or months. Some of the hotels are near the main attractions, while others are located away from the city, giving you a more private type of vacation.
The popular hotels that tourists love to stay in while in Foz do Iguacu include the Iguassu Golf Club Resort, the Mabu Interludium Iguassu Convention, Bourbon Cataratas Convention & Spa Resort, Belmond Hotel das Cataratas, and more. Each of these hotels and resorts offers you something different, and something special.
Weather in Foz do Iguacu
When traveling to Foz do Iguacu, always pack your luggage accordingly. You also want to plan your activities based on the weather as well. In order to do either of the two, you will need to know how the weather is in this Brazilian city. If you plan on traveling during the hot months, schedule your trip between the months of January through March, and November through December. The warmest month in Foz do Iguacu is March; July is the driest month. The coolest month is June, and the west month in Foz do Iguacu is November. The months that experience the most rainfall in this city are January, February, March, April, May, September, October, November, and December.
Traveling in Foz do Iguacu
If you have chosen Foz do Iguacu as your next vacation destination, you are destined to have a great time. Before you can see all of the sights, and experience the culture of this Brazilian city, you will need to plan your travel accommodations. When you schedule flights for your trip to Foz do Iguacu, you should purchase a Brazil Airpass. Taking multiple flights is something that you and those going on the trip with you will need to do, which is why an airpass can save you some money. The Brazil Airpass will need to be purchased outside of Brazil; it is only valid for individuals that are traveling from a foreign country.
Plan Your Trip Now!
You can start planning your trip to Foz do Iguacu now, and start exploring this beautiful city in Brazil. Once you are there, be sure to see the beautiful sights, and participate in the many water activities that are available. You will definitely have a memorable experience when visiting Foz do Iguacu.