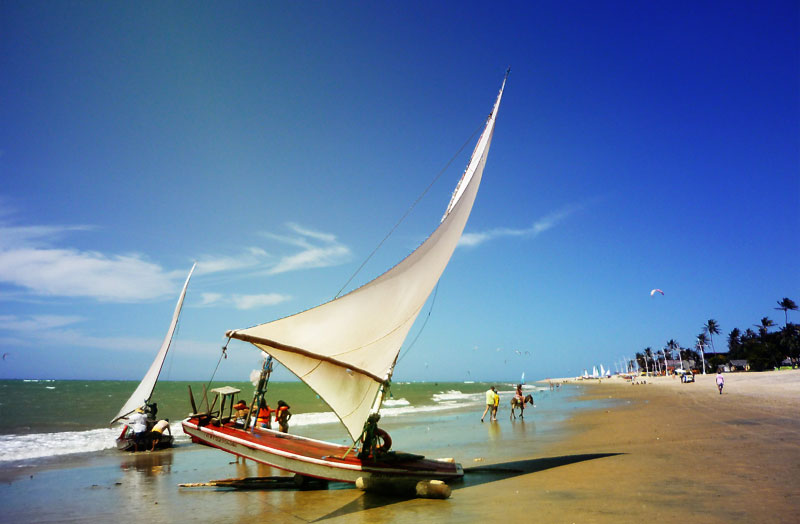 The time to plan your next vacation is now, and that trip to Fortaleza could be just what you need. This is a city known for its tourism, and large population. Many foreigners travel to Fortaleza to get a taste of the city's rich culture. You can find a variety of things to do throughout the year. Depending on the time that you travel, you may luck up and plan a trip that coincides with one of the many festivals that are popular in Fortaleza. Be sure you purchase a Brazil Airpass before you book your flights to Fortaleza; this will save you time and money.
History of Fortaleza

Fortaleza is one of the major cities along the northeast coast of Brazil. It is not only a vibrant city, but it is one of Brazil's largest cities. There are now approximately 2.5 million people who live in this city. Textiles and food are the main source of revenue for this city, along with tourism.
Fun Fact: The inhabitants of Fortaleza are nicknamed Alencarinos, after the famous author Jose de Alencar.
What to do in Fortaleza
The tourism for Fortaleza is great, and it begins once you get off of the airplane; this tourist office will help you find various activities to do, sights to see, and places to dine in before you go into the city. You can travel through Fortaleza by bus, train, subway, taxi, or foot.
Since the tourism in this Brazilian city is great, you will always find something to see or do. Some of the popular sights in Fortaleza include the Museu de Arte e Cultura Popular, the Cathedral, Mini Siara, the Theatro Jose de Alencar, and more. Some of the many things that you can do while on vacation in Fortaleza include visiting Cocoa Beach and Boa Vida beach; enjoy food and live music at Chico do Carangueiijo or Beira Mar grill. You could also go surfing, take cruises, enjoy golfing, or have a blast during one of the many festivals, including the Vida e Arte in January, or Carnival during February and March.
Hotel Accommodations
When you make your hotel accommodations in Fortaleza, check out of the different hotel venues that are available. Each resort, lodge, or hotel offers you something different. Most of these venues all come with heating, air conditioning, televisions, and great customer service. To ensure that you receive the latter, make sure you choose a hotel that has staff who can speak your native language.
Some of the most popular hotels to choose from when you plan your trip to Fortaleza include the Blue Tree Premium Fortaleza, Hotel Beira Mar, Quality Hotel Fortaleza, and the Hotel Gran Marquise.
Weather in Fortaleza
The time has come to plan that vacation to Fortaleza, but you don't know what months to travel during. If you want to go hiking in the rain, or lay around the beaches in the sun, you can do just that; you just need to know what seasons to travel to Fortaleza during. The good thing about this Brazilian location is that the temperatures are always high. When you travel to Fortaleza during the month of September, October, and November, you can expect to experience dry weather; however, when you travel during January, February, March, April, May, and June, be prepared to experience a lot of rain. The wettest month in Fortaleza is April, and the driest month is November. The warmest month in this area is January, while the coolest month is July.
Plan your trip ahead of time, and do not forget to check the weather. The weather conditions could be the difference between a great vacation, and a horrible trip.
Traveling in Fortaleza
Booking flights to Fortaleza can be an easy task, especially if you purchase a Brazil Airpass. You can save money when you book internal flights in Brazil. It will be necessary to buy multiple tickets when traveling to Fortaleza, which is why the Brazil Airpass is the best idea. It will save you money on your flights, and it can secure the rate that you were given for flights to Fortaleza.
The Brazilian Airpass is only valid for foreign passengers who are traveling to Brazil. Be sure that you purchase your airpass before you take your trip; this airpass can only be purchased outside of Brazil.
The Time is Now
The time to go to Fortaleza is now, so start planning. Be prepared to be amazed from the moment that you step off of the plane. Enjoy the tourism in this Brazilian city. While on vacation, you can explore, relax, and enjoy the great cuisine that Fortaleza has to offer!