Florianopolis, Santa Catarina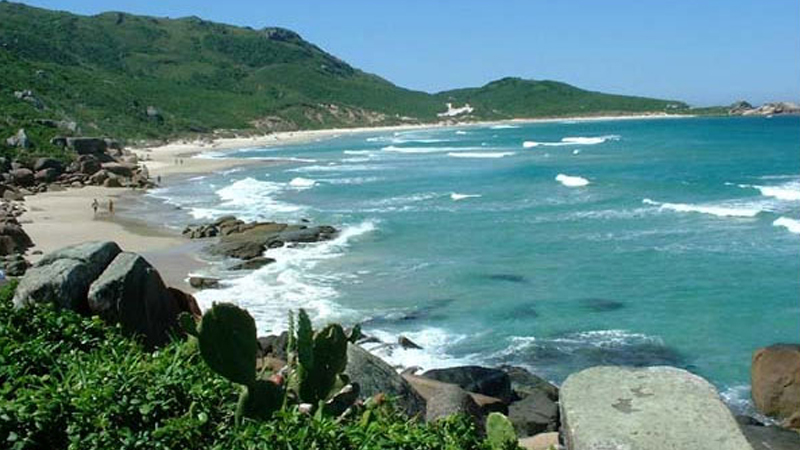 Travel to Florianopolis on your next vacation. You can travel with your family, friends, or co-workers. Regardless if you are taking a trip for business or leisure, you can find something amazing to do in this Brazilian city. Tourism is great in Florianopolis; you can always find a great restaurant to dine in, a good shopping district to visit, luxury hotels that can accommodate you, beaches to relax on, forests to hike through, and plenty of sights to see. Before you book your flights and plane tickets, be sure to purchase a Brazil Airpass.
History of Florianopolis

Florianopolis is the capital city of Santa Catarina State; it is also the second largest city in Brazil's southern region. Florianopolis is the second most populated city in this region, but that did not start until the growth between the years of 1747 and 1756. As the settlers began to travel to this area, it began to prosper. Indians were the first to settle in this area; they referred to Florianopolis as Meiembipe, which means mountain along the channel. The city has formed many alliances to help preserve the culture and harmony in the area.
What to do in Florianopolis
Florianopolis has a variety of things for tourists to do while vacationing in this beautiful Brazilian city. You can plan a hike through the verdant forest, paddle board on the lagoons, or lounge around on one of the beaches. If you enjoy fishing, Sambaqui is a great place to visit; you can fish, hang out on the beach, and party into the wee hours of the night. The locals will teach you how to Samba at this tourist attraction. Hikers can take a hike up Barra da Lagoa and see the huge boulders, pine forests, and more. Travel to Cirrus if you want to get a taste of Brazilian food. Schedule tours in Florianopolis with your travel agent, or through the hotel that you will be staying in while on vacation.
With the World Cup taking place in Brazil in 2016, Florianopolis is a popular destination for tourists who want to stay near the festivities, but far enough away to avoid the hustle and bustle.
Hotel Accommodations
If you are looking for a vacation spot that has great hotel venues, Florianopolis should be high on your list. This Brazilian city has various hotels and resorts that you could stay in while on your vacation. Each hotel provides you with something different, ranging from spas, gyms, swimming pools, activities at the venue, and more. You should always ensure that the hotel has staff that are fluent in your native language; this will help you receive the best customer service as possible.
Some of the most popular hotels in Florianopolis include the Sofitel, the Mercure Florianopolis Centro Hotel, Costao do Santinho and Hotel Costa Norte Ingleses.
Weather in Florianopolis
When you choose Florianopolis for your next vacation destination, be sure you check out the weather. Nothing ruins vacation plans more than unexpected weather conditions. When you plan your trip ahead of time, you can schedule your flights during the seasons that you prefer. If you want to travel during the hot season, be sure to plan your vacation between the months of June and March; December is also a hot month in Florianopolis. The warmest month in this Brazilian city is January. September is the wettest month in Florianopolis, and April is the driest. You can expect the most rainfall to take place between the months of January through March, as well as June through September.
Traveling in Florianopolis
Purchase a Brazil Airpass before you schedule travel to Florianopolis. The Brazil Airpass will not only save you some money, but it will save you the headache when you schedule flights to reach your vacation destination. You will be able to book tickets for internal travel, at an affordable rate, when you purchase a Brazil Airpass. Do not wait to make the purchase; this airpass must be purchased outside of Brazil.
Make Your Plans Now
Start making plans to travel to Florianopolis now. Tourism in this Brazilian city is great, which is why travelers come back time and time again. You will always find something to do in this city that offers you a variety of fun, is rich in culture, and full of harmony. Plan your vacation to Florianopolis and see all that the city has to offer!