U.S.-Brazil Airline Flights Poised to Expand
U.S.-Brazil Airline Flights Poised to Expand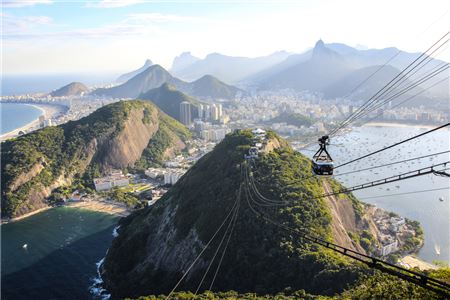 Flying to Brazil could get easier and cheaper in the coming year, as the country cuts red tape for American visitors and nears approval of an Open Skies treaty with the U.S.
"Brazil is a great opportunity right now for the airline business," said David Neeleman, CEO of Azul, a JetBlue-style airline that has expanded in five years to become the third largest airline in the most populous Latin American nation.
In a recent speech at the Wings Club in New York,  Neeleman noted that travel between the U.S. and Brazil is up, fueled in part by rising demand by Brazilians, for whom the U.S. is the top international destination.
Brazil's tourism ministry predicts that flights could increase by as much as 30 percent once the deal deregulating air travel between the countries is approved, possibly as early as this spring.
One of the more immediate benefits cited by airlines is that it would allow joint ventures among Brazilian carriers and foreign partners. For example, Azul is already code-sharing with United, which invested $100 million for a 5 percent stake in the airline three years ago; the deal could allow them to form a joint venture that could lead to closer cooperation.
The treaty would also give a boost to American Airlines' long-standing plan to form a partnership with LATAM, which would allow the two airline companies to coordinate schedules and offer more connections within South America.
Delta, for its part, has invested in Gol, the second largest airline in Brazil after LATAM's local unit.
The air-rights pact would come at a propitious time. Starting this month, Brazil's new e-visa system is going into effect, for citizens of the U.S., Canada and Japan, among others. That means Americans planning to visit Brazil will be able to apply online for a visa for a $40 fee, down from $160.
Another proposal would ease foreign ownership restrictions on Brazil's airlines, but that idea has generated some opposition; Azul, in particular, has expressed concerns that it would jeopardize its growth as an independent line.
Azul's rise was partly due to the fact that Brazil still has enormous untapped potential, said Neeleman, who is best known for having founded JetBlue nearly 20 years ago. "There were two large airlines dominating air service, and most people just didn't travel by air because it was so expensive," he said.
Azul arrived just when the country's economy was picking up, and, it now serves 100 destinations, many of them in remote areas of Brazil. The carrier also flies longer-distance routes from Sao Paulo to Orlando and Fort Lauderdale, using Airbus A330 aircraft that have an unusual feature: a "sky sofa" configuration in coach that allows family members to extend seats into something resembling a futon bed.
Neeleman noted that it is due to such innovations that Azul was recently named the "third greatest airline in the world" in a Trip Advisor survey. He noted, with some satisfaction, that the ranking put Azul one notch ahead of his former airline, JetBlue, which nabbed fourth place.