When it comes to exotic locales to take a vacation, it can be difficult to decide where the best place for a vacation may be. Well, you're in luck. At BROL let us do all the heavy lifting for you! We can give you advice on everything from cheap flight tickets to Brazil to the hotels and packages you may be interested in looking at! Why should you have to worry about the small details when we can take care of it? Each of our programs is custom made to give you a unique trip in Brazil. So when you come back, it's never the same trip twice!
Travel to Brazil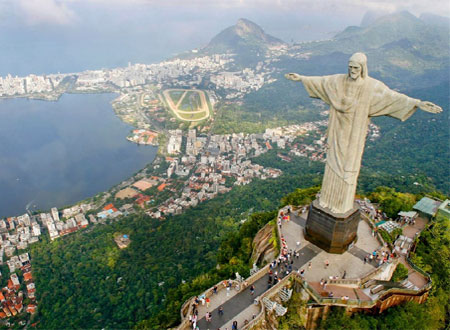 So, what can customers expect when it comes to a vacation in Brazil? South America is a very beautiful place, and BROL only seeks to share it with as many people as possible. Not sure where to start first? Just take a peek at the many vacation packages we have to offer for starters. They can give you a taste of the gorgeous scenery, environments, and atmosphere you can only find in Brazil.
Each vacation package covers the basics. Airfare, hotel accommodation, round trip, and all taxes and fees. Each vacation package is different, but the prices are unbeatable! For example, you could enjoy two nights in the wonderful Belo Horizonte where a daily buffet breakfast will be waiting for you! After that, it's staying three nights at the Hotel Solar do Rosario in Ouro Preto! Belo Horizonte is the third largest city in Brazil. Not to mention Ouro Preto shows the historic side of Brazil everyone has to experience at least once in their lifetime! Prices vary from each vacation package, but the basics are always covered.
Unsure of how much a vacation trip may cost? We provide an OISA Package Planning Form that can be filled out on our website. It's very basic. All you have to do is fill out your name, number, e-mail, and how many people will be traveling with you. You then pick the type of travel you would prefer, and the day you want your international flight to leave. There is also a comments/notes section in case you have any questions or concerns. This way you can know ahead of time exactly what to expect, and when the next flight will be available for you.
Options for Trips to Brazil
Perhaps the classic trip is not your style. Maybe you want to have a cruise, eco-travel, or have a different type of vacation? Or maybe you want to travel in a group to share your discovery of Brazil with friends and family? Regardless if you're looking for an adventure or a chance to get away, BROL has you covered!
Cruises
Do you want a chance to experience the wildlife of the Brazilian Amazon? You can do so in the lap of luxury from one of our many cruises offered! There are many types of cruises from the Iberostar Grand Amazon, which features a 75 cabin cruise liner. It's a fancy ship, but guests still have the chance to get out into nature to enjoy the wildlife.
Not in the mood for luxury? Try out the MV Tucano, or Motor Yacht Tucano. It's efficient, fun, and intimate. While the vessel itself is not a luxury one, it's still quite comfortable. The Tucano features an enclosed glass aquarium that allows visitors to get closer to nature and to enjoy the exotic sights to the fullest.
Eco-Travel

Do you have a budget? No worries, at BROL we have Eco Travel options to help you out with that! Enjoy the more intimate side of Brazil where you can have an intimate experience with the environment. The Amazon Basic is where a fifth of the world's freshwater flows. Lodges are accommodated in the jungle offer a safe place to rest your head at night. They're secure, but also excellent locations if you're interested in hiking. Guests also have the chance to get up close and personal with the local fauna and flora of Brazil. There are some different lodges and reserves to choose from. The only question is which one will you choose?
At BROL, as you can see we make sure to provide you with every option so you can have cheap tickets to Brazil. We believe everyone deserves a chance to experience Brazil and South America. It's a once in a lifetime chance to see another part of the world, have a new experience, and taste the new food! Explore the wild side by traveling up the river. Don't feel like seeing the local wildlife? Stroll down the historic streets of Brazil and dine in the lap of luxury at only the finest of hotels. At BROL, we make sure you enjoy your trip to Brazil.