The Beautiful Iguassu Falls in Brazil
The major city of Foz do Iguacu located in Parana state, is the home of the Iguassu National Park, where one of the seven wonders of the world is nested; The Iguassu Falls.
Taller than the Niagara Falls and twice as wide, the Iguassu Falls feature walkways that allow visitors to enjoy their power up close. Foz do Iguacu is located on the boarder between Brazil, Argentina and Paraguay, making the Falls a great spectacle being admired from viewpoints on both the Argentinian or Brazilian sides, by foot, helicopter or boat.
Iguacu Falls is one of the world's largest waterfalls stretching for 1.7 miles, forming hundreds of cascades. Surrounding rivers and rain forests deliver an exquisite natural setting, along with anteaters, howler monkeys, ocelots, endangered jaguars and butterflies.
Besides the astonishing world heritage Iguassu Falls, visitors can also enjoy the largest hydroelectric dam in the world, the Itaipu Dam, The Three borders Landmark, the spot where Brazil, Argentina, and Paraguay can be seen all in one place, and the famous ecological sanctuary Parque das Aves, a bird watcher's paradise.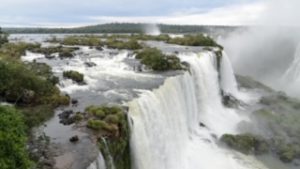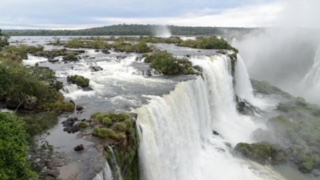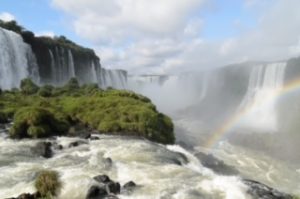 The city of Foz do Iguacu counts with a big number of hotels for all tastes and pockets. There is a hotel that is very special, due to its location inside the National park, facing the falls. That is the Hotel das Cataratas, a Belmond Hotel, with traditional Portuguese styled rooms.