9 of the world's best city beaches
9 of the world's best city beaches
updated 3:27 PM EDT, Mon August 4, 2014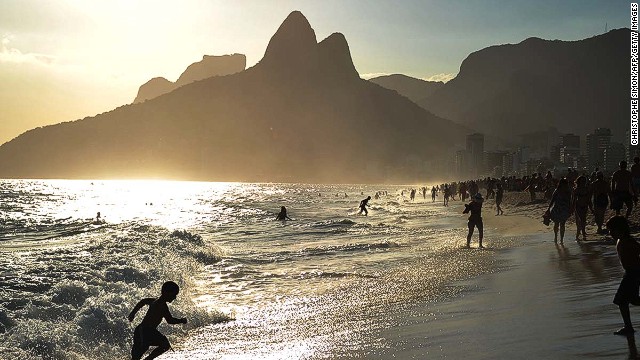 (CNN)
 — Stressed colleagues, traffic jams, pollution.
We're all familiar with the undesirable qualities of city life.
So thank the gods of urban planning for the occasional sandy edge.
There are some cities where worker drones can strip off the suit and tie, jump into shorts or a bikini and enjoy a day with their toes in the sand without having to leave the urban perimeter.
By talking with our well-traveled friends and colleagues, collating data from tourism authorities and using our own experiences, we've put together a list of what we think make up 9 of the best city beaches in the world.
No doubt you've got your own.
We'd love to hear about them in the comments.
1. Ipanema Beach (Rio De Janeiro)
Ipanema was famed long before Vinicius de Moraes and Tom Jobim composed their 1962 ode to one of the "tall and tanned and young and lovely" females that still throng the beach.
"The Girl From Ipanema," however, perfectly encapsulates the eternal allure of the 1,600-meter-long, 90-meter deep stretch of white sand.
Majestic granite peaks create a spectacular backdrop while the Cagarras Islands in the distance offer a counterpoint to the brilliant blue of the Atlantic.
This is the place where the dental-floss bikini and the crocheted G-string for men made their debuts, however, and it's the sight of the scantily clad people of the Cidade Maravilhosa that makes for arguably the most compelling spectacle.
Lowdown (5-point system)
Cleanliness: 4 — Ipanema is regarded by Cariocas (Rio natives) as the city's cleanest beach.
Visual stimulus: 5 — See G-strings and dental floss references above.
Food/drink: 5 — Hawkers ply the sand selling everything from cold beer and caipirinhas to grilled sticks of halloumi cheese, while the streets that back the beach host some of the Rio's best restaurants.
Safe swimming: 2 — The word Ipanema translates from native Indian as "bad, dangerous waters" and the undertow and crashing waves shouldn't be underestimated.
Party factor: 5 — Rio's inland districts have the edge when it comes to partying but Ipanema's clubs are no slouches.
2. Bondi Beach (Sydney)
Most of Australia's main cities are close to great beaches, but Sydneysiders are justifiably bullish about the ones on their doorstep.
Coogee, Manly and gorgeous and often practically deserted northern beaches such as Palm Beach all have their advocates but for an iconic all-rounder you can't miss with Bondi.
One of the world's most famous strips of sand, Bondi is the closest ocean beach to the center of the city, ensuring its popularity with tourists and locals alike.
The wide curving crescent of white sand can get incredibly busy, but the turquoise water and prime people-watching opportunities offer recompense.
Lowdown (5-point system)
Cleanliness: 4 — Bondi has been one of Sydney's cleanest beaches since an outlet pipe was installed in 1991 to discharge Sydney's waste five miles offshore rather than just off the cliff face that juts out of the beach.
Visual stimulus: 5 — The beach itself is picture perfect and the surfing contingent ensures a healthy stream of toned flesh.
Food/drink: 5 — With more than 130 eateries in Bondi, beachgoers can chow on everything from Asian tapas to gourmet fish and chips.
Safe swimming: 3 — An underwater net keeps the sharks away but dangerous rip currents mean you should swim only in designated safe-swimming areas.
Party factor: 4 — It's not the most sophisticated clubbing scene but there's plenty of scope to cut loose in Bondi's nightspots.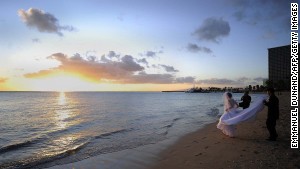 Waikiki Beach: And you can stay right where you are for the honeymoon.
3. Waikiki Beach (Honolulu)
The hula girls and twangy guitars may mostly be confined to Honolulu's hotel lobbies these days, but Waikiki Beach retains a widescreen aura fostered in countless movies.
Originally a retreat for 19th-century Hawaiian royalty, the beach was also a favorite of author Robert Louis Stevenson.
Today the clutch of high-rise hotels is evidence of its status as one of the top holiday destinations in the United States, but the turquoise waters and views of the Diamond Head crater make up for the surfeit of concrete and garish short-sleeve shirts.
Lowdown (5-point system)
Cleanliness: 5 — Work by groups such as the Healthy Hawaii Coalition ensures that the beach and water remain pristine.
Visual stimulus: 4 — The tourist scene tends to be best described as "pasty," but the spectacular sight of Diamond Head crater makes up for a lot.
Food/drink: 3 — Waikiki Beach is both touristy and commercial so it can be hard to find anything cheap or left field.
Safe swimming: 5 — The water is shallow and warm.
Party factor: 4 — Plentiful bars and nightclubs advertising foam parties and a "relaxed" dress code make for a raucous after-hours scene.
4. Brighton Beach (UK)
Brighton's proximity to the British capital has earned it a reputation as a kind of "London on Sea."
Yet while some apply the soubriquet derisively, the town's fusion of hip urban energy and fresh sea air acts as a tonic to any traveler and commuter ills.
The beach, which is mostly shingle down to the low tide mark, is a far cry from the paradise cliches — this is England after all — but it resonates charm and pulses with energy, especially on rare sunny days.
Arcane British seaside traditions such as stripy deckchairs, sticks of rock candy and fairground rides abound, but Brighton Lanes — a maze of quaint streets and alleyways crammed with independent shops — are a stone's throw away.
Lowdown (5-point system)
Cleanliness: 3 — Although considered clean by British standards, Brighton doesn't have a Blue Flag — official recognition by the international Foundation for Environmental Education of "super clean" status.
Visual stimulus: 4 — Brits aren't slow to strip off at the first glimpse of sun, so there's plenty of flesh on parade during summer. Brighton's (stony) naturist strand was the first official clothes-optional beach in Britain.
Food/drink: 5 — "London on Sea" is blessed with a superb eating and drinking scene.
Safe swimming: 3 — The beach slopes sharply into the sea at high tide.
Party factor: 5 — Great nightclubs and music venues and frequent appearances on the beach by big names make Brighton popular with music fans.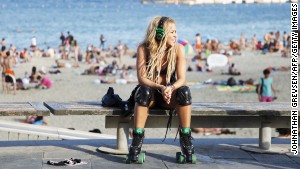 If Barceloneta Beach is good enough for Shakira …
5. Barceloneta Beach (Barcelona, Spain)
Barcelona's beaches aren't the most beautiful in the world, but when it comes to atmosphere they're hard to beat.
The most popular due to its proximity to the center of town is Barceloneta Beach.
Lined with palm trees and backed with buzzing bars and cafes, the beach is dominated by Peix, a 60-meter-long abstract golden fish sculpture by Frank Gehry.
Another attribute is the area of Barceloneta itself, where superb seafood tapas do justice to the area's history as the traditional fishermen's quarter.
Lowdown (5-point system)
Cleanliness: 5 — More than 200 workers clean Barcelona's beaches daily.
Visual stimulus: 3 — Beach patrons include a significant quota of tourists, leisure groups and schoolchildren. Not the sexiest of demographics.
Food/drink: 4 — Beach bars known as chiringuitos line sand and the district of Barceloneta has many choice eating options.
Safe swimming: 5 — There are no dangerous currents close to the shore and the beach is patrolled by Red Cross lifeguards.
Party factor: 3 — Local DJs tend to favor chill-out tunes over raucous anthems.
6. Jumeirah Beach (Dubai, UAE)
Soaring skyscrapers, mega-malls and manicured golf courses all catch the eye but the center of attention in the Middle East's most fantastical city-state remains its beautiful coastline.
When the Emirate's ruler, Mohammed bin Rashid Al Maktoum, decided to bank Dubai's future on its tourism potential, he rightly saw the spotless beaches and crystalline waters of the Persian Gulf as one of his main assets.
And so they remain.
The beaches at Al Mamzar on the opposite side of Dubai Creek have their fans, but the prime sun-worshipping spot is Jumeirah Beach.
Lowdown (5-point system)
Cleanliness: 3 — Illegal dumping of sewage by tankers has been an issue in the past but lab tests recently gave the waters around Dubai the all clear.
Visual stimulus: 3 — Dubai is liberal for the Middle East but it's not Rio.
Food/drink: 4 — Jumeirah Beach Road is lined with restaurants. If you want alcohol, however, you'll need to head for a hotel.
Safe swimming: 5 — The Gulf's shallowness and bathtub temperature make it ideal for swimming.
Party factor: 4 — Better than you might think. Barasti or 360° have beach beats and beverages.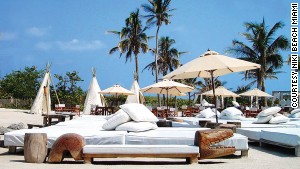 Serious pampering awaits in Miami.
7. Miami Beach (Miami)
It's not difficult to see why Miami is synonymous with its beach.
More than 8.5 miles (14 kilometers) of the east coast of the barrier island that holds the Florida city is taken up by palm-backed white sand.
The beach plays an important role in civic life.
It has a reputation for hedonism and it's true that its nightclubs — especially in the South Beach area — are magnets for the rich, famous and beautiful.
However, there's more to the area than lithe bodies, vacuous chat and expensive cocktails.
The historic art deco neighborhood of South Beach rewards exploration while major arts events such as the annual Art Basel Miami Beach up the culture quotient.
Lowdown (5-point system)
Cleanliness: 3 — Pollution and littering have been problems, but groups such as the Environmental Coalition of Miami and the Beaches have been working hard to spread the cleanliness message.
Visual stimulus: 4 — South Beach is the place to head if you want to "critique" a model shoot.
Food/drink: 3 — The beach itself isn't great for food and alcohol is (officially) banned, but there are plenty of options on thoroughfares such as Ocean Drive and Lincoln Road.
Safe swimming: 3 — The water temperature is perfect for most of the year but jellyfish can be a problem.
Party factor: 5 — Miami Beach's swanky nightlife is famous for a reason.
8. Kitsilano Beach (Vancouver, British Columbia)
Vancouver is consistently ranked among the most liveable conurbations in the world and you'd have to think that the 18 kilometers of beaches within its city limits don't hurt its rep.
Kitsilano or "Kits" is one of the most popular, both with beach bums and sporty types who balk at the idea of wasting too much time on a towel.
Activities include 10 tennis courts and two basketball courts. At 137 meters, Kitsilano's saltwater pool is the largest in Canada.
Lowdown (5-point system)
Cleanliness: 3 — Gray sand and often murky water don't give the best impression, but regular beach cleanups and a smoking ban ensure minimal trash.
Visual stimulus: 4 — Snow-capped mountains, Vancouver's striking skyline and athletic bodies all catch the eye.
Food/drink: 4 — The upmarket neighborhood of Kitsilano is home to great restaurants. The Boathouse in particular is renowned for its waterfront drinking and dining.
Safe swimming: 4 — The water is clean and the swimming is safe. It can get mighty cold, however.
Party factor: 3 — The cluster of bars and restaurants over the road from the beach make Kits a lively place to unwind.
9. Clifton Beaches (Cape Town, South Africa)
Cape Town's Clifton Beaches come with one major drawback — the icy waters of the Atlantic Ocean are what might politely be termed as bracing, practically year round.
Despite this they remain a magnet for visitors due to their spectacular natural beauty and unbeatable African sunsets.
Divided into four small but interlinked coves by massive boulders the size of small cars, the separate beaches cater to different demographics.
First Beach is for the local moneyed set; 2nd Beach attracts a sizeable gay contingent; 3rd Beach is more family orientated.
The liveliest spot, however, is 4th Beach, where Cape Town's hip set come to top up their tans.
Lowdown (5-point system)
Cleanliness: 5 — The beaches have been awarded the Blue Flag for excellent environmental standards by the international Foundation for Environmental Education.
Visual stimulus: 5 — The beaches' fashionable patrons make great efforts to look trim. The spectacular scenery and sunsets scrub up nicely, too.
Food/drink: 2 — There's not much in the way of restaurants and alcohol isn't permitted on the beach.
Safe swimming: 2 — Shark attacks aren't unknown and the water is cold all year round. .
Party factor: 2 — There are occasional parties on 2nd and 4th beaches but otherwise Clifton is pretty subdued.