New York as Azul Airlines new destination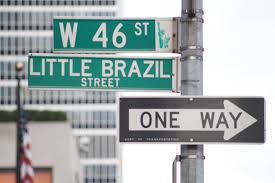 Starting on June 15th 2020, Azul Airlines will be providing its new international route, Campinas-New York (JFK), which will have a daily flight. On board the Airbus A330 aircraft, Customers will arrive in one of the most sought after destinations by Brazilians in the United States in just over 9 hours. Tickets for Azul's new international destination have already begun to be sold, on all official channels, starting at R$ 2,421.00*.
The North American city will be the third destination in the USA to have flights from Azul, which already operates flights in Orlando and Fort Lauderdale. When in operation, the new international market will expand the offer of Azul flights between Brazil and the United States: in all, there will be 30 weekly flights. In turn, Viracopos, the main hub of connections in Latin America, will now have direct connections to 60 destinations, six of them international: Orlando, Fort Lauderdale and New York (John F. Kennedy Airport), in the United States, Lisbon and Porto , in Portugal, and Buenos Aires, in Argentina
"We started the year with great news for our Customers. We are developing regional aviation, serving Brazilian domestic aviation and, with the consolidation of this business, we can also expand our international operation. New York is the 'apple of the eye' of Brazilians, who dream of getting to know sights such as the Statue of Liberty, Times Square and Central Park. With this announcement, we wrote yet another historic page in Azul's recent trajectory. Campinas and our entire domestic network, from Porto Alegre to Mossoró, benefit from the launch of this new international destination. We are very happy and excited about this new operation ", points out John Rodgerson, president of Azul.
"Viracopos made important investments in the international area in 2019 and will continue to make improvements to the infrastructure to ensure greater comfort for passengers in 2020. In 2019, the airport recorded a historical record for the movement of passengers flying abroad. With this new flight from Azul to New York, the trend is for the increase to continue this year ", said the president of ABV concessionaire, Gustavo Müssnich.
Belo Horizonte, Porto Alegre, Salvador, Rio de Janeiro, Ribeirão Preto and Curitiba will be the main Brazilian cities with convenient connections for the Campinas-New York route. In the North American city, in partnership with JetBlue, Azul customers will have immediate connections to cities such as Chicago, Boston, Los Angeles, Austin, Seatle, San Diego, San Francisco, Las Vegas, Salt Lake City, Houston and Long Beach.