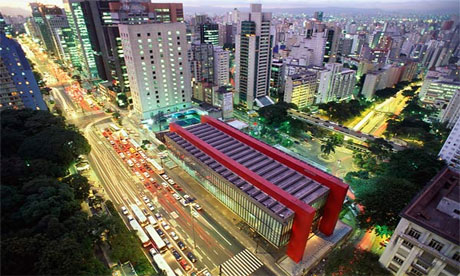 When it is time to plan that next trip to Brazil, be sure to choose Sao Paulo as your
vacation destination. This city has a great tourism industry that improves each year. Plan
ahead so you can ensure that your family or friends have the best time when traveling to
this beautiful destination. Choose from a variety of activities that everyone in your party
can enjoy. To make sure you receive the best price on tickets, you will need to purchase a
Brazil Airpass.
History of Sao Paulo
Sao Paulo is one of the largest cities in Brazil, and it attracts many tourists and potential
residents every year. Long before the tourism in this city increased, it went through many
transformations to become the amazing city that it is today. Sao Paulo was founded in
1554, and since then, the population and economy of this city have continued to grow
and prosper. Even though Sao Paulo is often overshadowed in the tourism department
by cities such as Salvador and Rio de Janeiro, this city is a great place to explore. Sao
Paulo is often referred to as Sampa by the locals, as well as other individuals who reside
in Brazil.
What to do in Sao Paulo
Everything about Sao Paulo is amazing; from the exquisite way the inhabitants live,
to the diverse regional cuisine, and the extraordinary attractions. There are a variety
of cultural activities that are always on display in this city. Many postcards that are
purchased in, and sent from, Sao Paulo have the picture of Avenida Paulista as the cover
photo. This is one of the largest cultural regions within the city, and it is located between
the old and new areas of the city. There is also a historic center that many travelers love
to go to while on vacation in Sao Paulo. There are ecotourism parks, leisure parks, and
mixed parks for you to visit when you travel to this Brazilian city. You can enjoy the
cultural centers, museums, beaches, and panoramic views in Sao Paulo.
Hotel Accommodations
When you need a hotel, there are plenty to choose from in Sao Paulo. Each hotel or resort
will have different amenities, room layouts and décor, as well as attractions located inside
of the venue. The prices of these hotels and resorts will vary, depending on the location,
and other important factors. Some of the more affordable hotels that travelers like to stay
in while on vacation in Sao Paulo include the Renaissance Sao Paulo Hotel, the Hilton
Sao Paulo Morumbi, and the Grand Hyatt Sao Paulo.
Weather in Sao Paulo
When the time to plan your trip to Sao Paulo comes around, you will need to make
sure you are up-to-date on the current weather conditions in this city. Knowing the
temperatures for the various seasons could be the difference between a great trip and
a horrible vacation. This information allows you to pack the right type of clothing,
accessories, and supplies, including medication and other necessities. You should never
plan to take a trip to any country or city without knowing the average temperatures for
that location.
When you travel to Sao Paulo, the wet season is generally between the months of January
to March, as well as October, November, and December. These months have the most
rainfall in Sao Paulo. The wettest month in this Brazilian city is January. If you travel to
Sao Paulo during the month of July, this is the driest month. The coolest month in Sao
Paulo is June, and the warmest month is November.
Traveling in Sao Paulo
When making plans to take a trip to Sao Paulo, be sure to purchase a Brazil Airpass.
This will give you the best deals on airplane tickets, even for multiple flights. Sometimes
the prices on flights will increase as the time to travel approaches; however, a Brazil
Airpass will lock those rates in for you. This airpass is only available to foreign travelers;
therefore, it cannot be purchased once you have arrived in Brazil. Contact a travel agent
or airline representative to learn more about purchasing a Brazil Airpass.
Take the Vacation that you Deserve
You deserve to take a relaxing vacation to a beautiful country, so make plans to go to
Brazil this year, regardless if you are going with your spouse, or if you are going with
family or friends. Choose to visit Sao Paulo, a city that has great tourism; offering every
traveler something different!