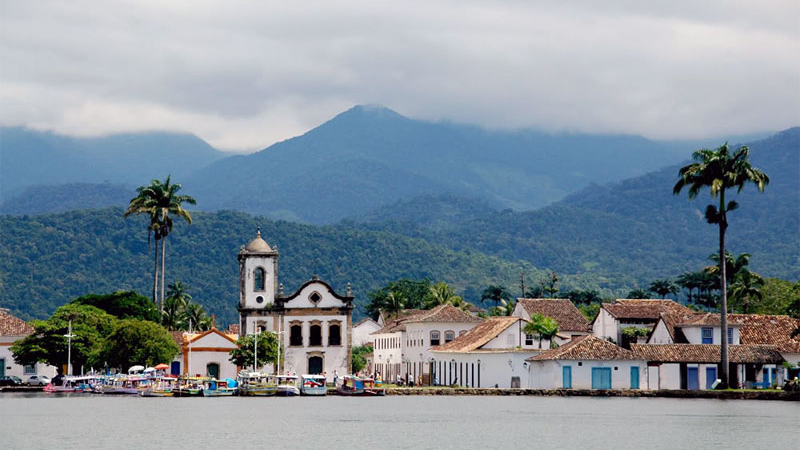 The time to plan your vacation is now, and Paraty is just the city for you. When you
travel to this beautiful city, you can take in the great views, dine on the fabulous cuisine,
and tour the town, taking time out to relax on the beach, or get some shopping done at
one of the shopping centers while you are on your trip. To make sure you receive the best
deals on flights and tickets to Paraty, be sure that you purchase a Brazil Airpass.
History of Paraty
In 1667, Portuguese colonizers found the city that is now known as Paraty. This region
in Brazil was originally populated by Guianas Indians. The city became an export of gold
to other major Brazilian cities after gold was discovered in the gold mines. After many
attacks, the famous Gold Trail could no longer transport the gold in between the cities; a
safer route had to be discovered. In 2004, the Gold Tail was submitted for inclusion on
the World Heritage List. The coffee trade was one economical boost for Paraty, as well as
the production of cachaca, which is sugar cane.
Fun Fact: The name Paraty is known as "river of fish" in the Tupi language.
What to do in Paraty
When you travel to Paraty, there is something that you and the entire family can enjoy.
If you take the trip with a group of friends, or with your significant other, you will also
find tours to enjoy, historical sites to see, great indoor and outdoor activities to participate
in, along with a variety of other attractions to see. The tourism in Paraty is good, and it
improves each year.
If you want to take a tour in Paraty, you can rent a bike, take a boat, or bus. You even
have the option to ride a horse through some of the wild adventures. If you want to
go climbing, Paraty has plenty of climbing adventures that you can take advantage of.
Some of the popular tours in Paraty include the Trindade Tour, the Pot-Still Tours, the
Schooner Rides, the Beach Tours, the Atlantic Forest Tours, and more. You can also
enjoy the festive night life that Paraty has to offer while on vacation.
Hotel Accommodations
There are a variety of hotels that you can stay in when you travel to Paraty; each hotel
will offer you something different. Some of the hotels are more expensive due to the
luxurious amenities and ambience, but the affordable hotels in this city are just as great,
and they allow you to spend that extra money on souvenirs and other items that you may
purchase while you are on vacation.
Some of the popular luxury hotels in Paraty include the Casa Turquesa Maison D
Hotes, the Pousada Porto Imperial, and the Pousada Arte Urquijo. These hotels are your
home away from home, only better! There are swimming pools, views of the beaches,
and excellent customer service. If you prefer to stay inside the hotel while you are on
vacation, there are spas, restaurants, and bars that you can enjoy. This gives you time to
relax, before you head out into the beautiful city of Paraty.
Weather in Paraty
It is imperative that you know the weather conditions in Paraty before you start planning
your trip to this city. Being unaware of the weather could be the difference between a
horrible trip, and a great trip. There are certain accessories that you may need, such as
rain boots, hats, scarves, and so on. You could also need to take sunscreen if you travel
during the hot months. If you do not know the weather conditions for Paraty, you will not
know when the different seasons occur. The temperatures in Paraty are hot and humid
between the months of December and March. The wettest month in this city is February.
Traveling in Paraty
The time to take your trip to Paraty may be now, but before you book those flights, and
purchase tickets, you will need to obtain a Brazil Airpass. This is necessary to save you
time and money when booking airline tickets for your trip to Paraty. The Brazil Airpass
allows you to lock in rates for flights, without the hassle of the prices increasing at a later
date. You can use the airpass for multiple flight access. You will need to purchase your
Brazil Airpass outside of Brazil. Once you have entered Brazil, you will not be permitted
to purchase an airpass.
Plan Your Trip Today
Start planning your trip to Paraty, and be prepared to see an amazing city with lots to
offer travelers. The tourism in this city is great for everyone, regardless if you travel to
the city with children, or if this is an adult-only vacation. Plan ahead to make sure you
see all of the rich culture that this city has to offer.