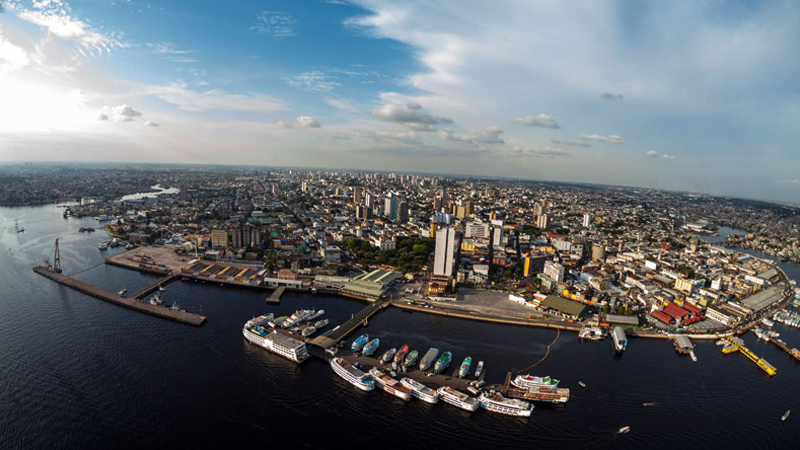 The time to go to Brazil is now, and the city to visit is Manaus. You can take advantage
of the culture that this city has to offer, as well as the many sights to see, and the history
to learn. Be sure to book your hotel accommodations well in advance so that you receive
the best deals, and so that you can ensure vacancy; the hotels can sell out quickly. You
will also need to purchase a Brazil Airpass to lock in the rates for your tickets and flights
to Manaus.
History of Manaus
In 1689, this city was founded in the northern region of Brazil. The city was originally
used as a defense for Portuguese settlers who were being invaded by the Spanish. There
are now more than 1.5 million people living in Manaus. This city is a foreign trade zone;
its exports include oil refining, electronics, and wood. The tourism in Manaus improves
year after year.
What to do in Manaus
Even though Manaus is hot, it is still a tourist attraction. Many people travel to this city
to take the river tours, in addition to seeing the various sites and attractions that the city
has to offer. The Manaus Opera House is a main attraction for travelers all around the
world. Some of the must-see sights in Manaus include the Natural Science Museum.
The animals that are inside of this museum are live. Nearby is the INPA, which houses
the preserved birds and wildlife. If you want to go to the market and do some shopping
while on vacation, the Mercado Municipal is a great venue to visit. It was modeled after a
market in Paris, the Les Halles market.
While on your trip, you could relax on one of the many beaches in this city. Two of the
most popular beaches in the area are the Praia de Lua Beach, and the Ponta Negro Beach.
Both are located in great areas, and provide tourists with a variety of activities to do. Be
sure to take tours of the Amazon when you travel to Manaus. The ecotourism specializes
in boat expeditions for small groups.
Hotel Accommodations
Manaus has a variety of hotels available, regardless if you are looking for a luxury venue,
or if you are on a budget. Some of the most popular hotels – that are available for an
affordable rate – include Hotel Rei Arthur, Hotel Express Vieralves, Hotel Colonial, Rio
Branco, and Big Hostel Brazil. You are able to rent out single rooms, if you are traveling
in a small party; these hotels can also accommodate travelers with more than two people
in their party.
Other hotels that are in the mid-range price range include Continental Park Hotel, Hotel
Saint Paul, and Hotel Sao Pedro. The more luxurious hotels include Hotel Millennium,
Tropical Manaus Eco Resort, and Hotel Andrianopolis All Suites.
Weather in Manaus
Before you make those vacation plans to Manaus, you should know what the weather
conditions in this Brazilian city are. You do not want to plan a trip, only to have it ruined
by weather that you are not fond of. Even though the temperatures in Manaus are always
high, on average, there are some months that tourists prefer to travel during. The months
of January, February, March, April, and May have the nicest temperatures, which is why
these months are chosen by many tourists. The driest month in Manaus is August, while
the wettest month is March. The coolest month in this Brazilian city is May, and the
warmest month is September. Rainy season in Manaus takes place during the months of
January, March, April, May, June, October, November, and December.
Traveling in Manaus
Do not purchase your tickets for Manaus without buying a Brazil Airpass. This airpass
could save you money on multiple flights to Brazil. You can lock in the rates on your
flights to Manaus, and allow yourself some flexibility with travel. You will need to
purchase the Brazil Airpass outside of Brazil; it is only available to foreign passengers.
Plan your Vacation Today
Start planning your trip to Manaus and get prepared to have a great vacation. You will
have access to some great attractions, food, and people. Stay safe when you travel to
Manaus by wearing insect repellent, pants, and long sleeve shirts. Always travel with a
group, especially if you are venturing out into the city. It is best to avoid the east zone in
Manaus. Plan ahead, and plan well.