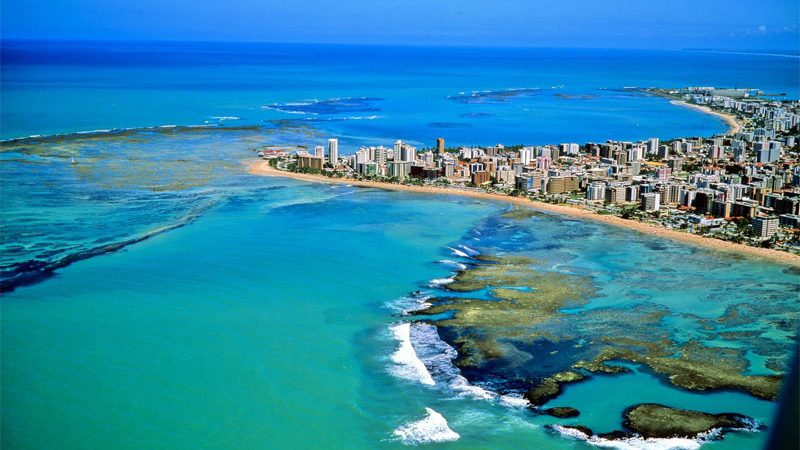 The time has come to plan that trip to Brazil, but you may be stuck determining which city you want to visit. The answer is easy; choose Maceio. Even though the city is considered small in Brazilian standards, the tourism and population for Maceio continues to grow each year. Before you book tickets to Maceio, be sure to purchase a Brazil Airpass; this could help you lock in rates on your flights; it could also guarantee that you have flexible travel dates.
History of Maceio
Around the 1815, Maceio began as a sugar mill and plantation. The city was originally referred to as Macayo. The biggest exports in this Brazilian city are leather, coconut, sugar, timber, and tobacco. This city is known for its handmade objects. Maceio has its own version of Brazil's Carnival; this version is done at the local level. The residents of Maceio named this mini Carnival, Maceio Fest. It generally lasts for four days during the month of November. Tourism for this city is extremely high during this "carnival."
Fun Fact: Maceio is also known for its hand-made crafts.
What to do in Maceio
When you travel to Maceio, there are a variety of tourist attractions that you can take advantage of. One of the main draws for this Brazilian city are the beaches. The beaches in this city are covered in white sand, and the water is always clear. You have the option to take boats out to the natural pools when you go to one of the beaches in Maceio; you can also go snorkeling, diving, and kite surfing. If you prefer to sit under the shade of the palm tree at these beaches, you can do just that.
Local crafts are other draws for travelers who take their vacation in Maceio. The northeast coast of Brazil is known for these handmade crafts. Some of the crafts that are available for purchase include hammocks, jewelry, swimwear, and more.
Hotel Accommodations
There are a variety of hotels that you could stay in while on vacation in Maceio. Each of these hotel venues has something different, making sure that your experience is unique and pleasurable. Some of the most popular hotels and resorts in Maceio include Ibis Maceio, Hotel Ritz Praia Maceio, and Hotel Matsubara Maceio.
Weather in Maceio
The weather plays an important role when you are planning a vacation. You do not want to choose travel during months that are too hot, unless this is something that you perform. If want to participate in outdoor activities in the rain, you will not want to plan a trip during the dry months. When you plan a trip to Maceio, the temperatures are always high, on average. The driest month in this Brazilian city is November, and the wettest month is May. The months that experience the most rainfall in Maceio are February, March, April, May, June, July, August, and September. The coolest month in Maceio is August, while the warmest month is December.
Traveling in Maceio
Purchase a Brazil Airpass to save yourself the headache of searching for flexible flights when you are planning your trip to Maceio. When you purchase a Brazil Airpass, you can also lock in the rates for your tickets to various cities throughout Brazil. This airpass must be purchased outside of Brazil. To learn more about the Brazil Airpass, consult with your travel agent. You can also ask the airline that you are purchasing tickets through about the Brazil Airpass.
Taking the Trip of Your Dreams
If you are ready to take a beautiful trip with the family or friends, or a trip for two, Maceio is the perfect vacation for you. You will need to schedule tours that your entire traveling party can enjoy once you reach this Brazilian destination. Do not waste another moment; starting planning on taking the trip of your dreams when you travel to Maceio.