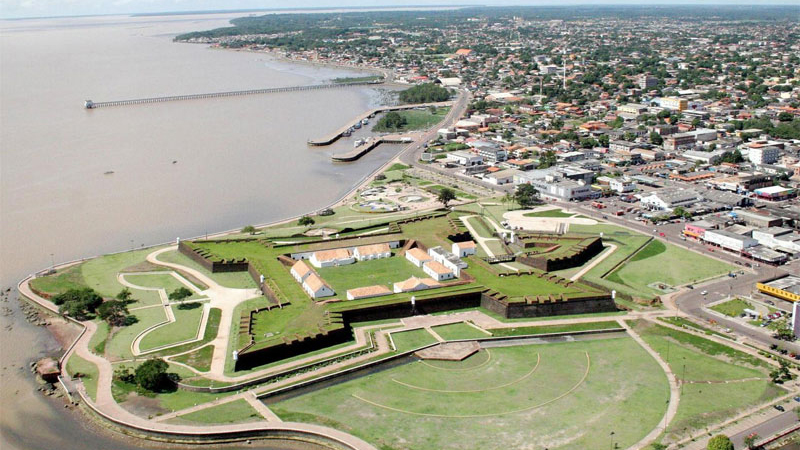 Time to plan your next trip to Brazil, and Macapa could be the perfect vacation destination. You will find a variety of things to do while on vacation in this area. Always make time to see the historical sites, but plan to have time visiting some of the more modern restaurants and entertainment venues as well. When you travel to Macapa, make sure you lock in your rates by purchasing a Brazil Airpass. This airpass could save you time scheduling flights, and money on purchasing tickets.
History of Macapa
Macapa is one of the only cities in Brazil that cannot be accessed by highways. Travelers have to come and go to this city by ships and airplane. This city is connected to a limited amount of parts of the country. The city is often referred to as "the capital city of the middle of the world" because the equator runs through the middle of the city. Macapa is the third largest city in the North Region of Brazil; it is the fifth wealthiest city in the region as well.
Fun Fact: The English language is a part of the official high school curriculum.
What to do in Macapa
If you are looking for things to do while on your trip to Macapa, there is no shortage of options. You can relax on one of the beautiful beaches, learn about the historical facts by visiting one of the museums, hang out at the theaters, and visit one of the shopping centers.
Some of the popular sites to see and places to visit in Macapa include Beach Araxa, Zerao Stadium, Villa Nova Shopping Center, Archaeology and Ethnography Museum, Bacabeiras Theaters, Casa de Artesao, and more. To see the landmarks of the equator, be sure to make time to visit Trapiche Eliezer Levy when you take your trip to Macapa.
Hotel Accommodations
Finding a hotel in Macapa is not hard to do; there are a variety of hotel venues and resorts that you could stay in while on vacation with your family, friends, or partner. Some of the popular hotels include Hotel Rio Mar, Hotel Ibis Macapa, and the Amazon Plaza Hotel. Each of these venues will offer you different amenities that you will love. Some hotels are closer to the tourist attractions, while others may be a little further than walking distance. Regardless of which hotel or resort you choose, be sure to call ahead to get all of your questions pertaining to the hotel answered.
Weather in Macapa
The temperatures in Macapa are almost always high, on average. You should always know what the weather conditions are before you plan your trip to Brazil, and Macapa is no exception. Although the temperatures are high on average, there are some activities that you will not be able to participate in unless the weather permits, so always plan ahead. The wettest month in Macapa is March, while October is the hottest month. Rainy season generally takes place during the months of January, February, March, April, May, June, July, and December. The warmest month in Macapa is September, while the coolest month is April.
Traveling in Macapa
Do not buy your tickets to Macapa just yet; be sure you purchase a Brazil Airpass first. The airpass can save you money on flights to Macapa, and it can give you more flexibility with your travel. The Brazil Airpass can be purchased through the travel agent that you use to book your vacation through; you can also inquire about the airpass when you speak directly to the airline that you are scheduling your flights through. Be sure to lock in the rate for you and your traveling party by purchasing an airpass. You will not be permitted to buy a Brazil Airpass unless you reside outside of Brazil.
Take Your Vacation Soon
Start planning your vacation to Macapa and you could be taking your trip soon. Determine how long you are going to travel to this Brazilian city for, and plan your trip accordingly. You will also need to choose the amount of individuals who will be traveling to this city with you ahead of time; this will help you plan your tours, dinners, and activities accordingly. Do not waste another moment; start planning now and take your vacation to Macapa soon!