Air Canada launches stopover in Sao Paulo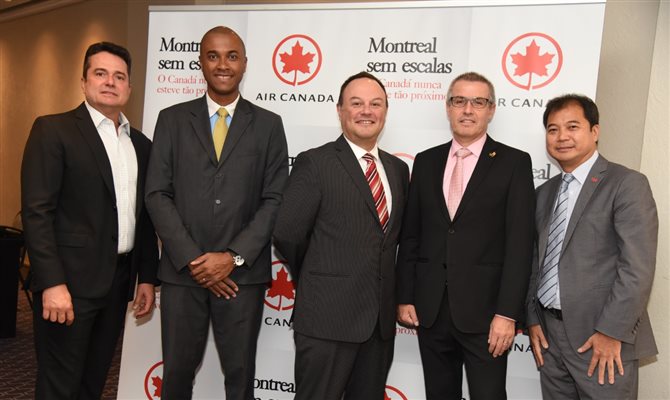 Air Canada today launched its free stopover of up to four nights in Sao Paulo. The news was announced in parallel to the start of the route from Montreal to Guarulhos, operated seasonally from this Wednesday (11). To publicize the state of São Paulo as a destination, six operators from the Quebec region will visit the North Coast, from Bertioga to Ilhabela, and spend two more days in the capital to learn about culture, gastronomy and tourist attractions.
"In the last four years the demand has grown 75% and now we have about 200 thousand Brazilians traveling to Canada, annually. On the flights from Montreal to Sao Paulo we have 90% of occupancy in the debut month and the route via Toronto reaches 96% during peak season, "explains Air Canada general manager for Brazil, Giancarlo Takegawa." Brazilians are responsible for 70% of the volume on our routes here and, in the country, agencies are our largest distribution channel. Without these companies we would not have the results we achieved today, "he says.
The company will close the year with 55 million passengers carried, with 1,600 daily flights in 220 destinations and a fleet of over 400 aircraft. "Ten years ago we had a strategic change and we moved from being primarily a North American-focused company to being international, and investing more in quality of service and customer experience," says Air Canada's new International CEO Virgilio Russi. .
New Route
Seasonally, flights between Sao Paulo and Montreal will be operated three times a week from December 11 to March 27, 2020. The company has partnerships with Azul, Gol and Latam. This way, those who start the trip from other Brazilian cities, outside São Paulo, can check in and pick up their luggage at the final destination.
The flights will be operated on the 298-seat Boeing 787-9 Dreamliner, split between Executive Signature Class (30), Premium Economy (21) and Economy Class (247). Business travelers flying between Sao Paulo and Montreal will receive free Wi-Fi, subject to availability on the aircraft.
Biggest Offer
Starting in March, the airline will increase its seating offer on the SP-Toronto route using the 400-seat Boeing 777-300ER, with 40 in the Signature Class executive, 24 in the premium economy and 336 in the economy class. "We will have 3,060,000 seats per month from April to September to meet summer demand."