Santiago Calatrava's Museu do Amanhã Opens in Rio
From Folha de Sao Paulo – Original Article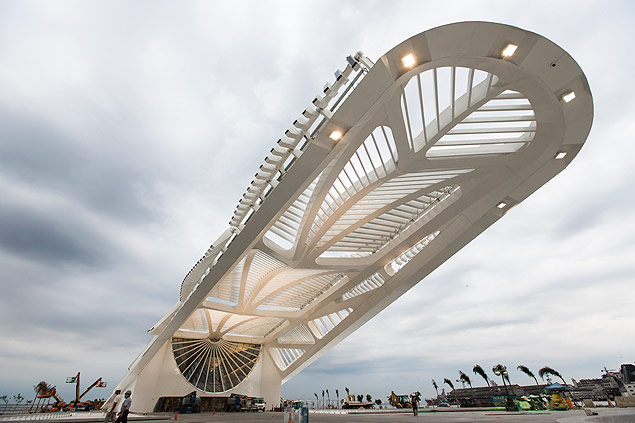 It has taken five years of work, 55,000 metric tons of concrete, 22,000 metric tons of sand, 4000 metric tons of steel, thousands of workers – one of whom died on the job – and nearly R$300 million (US $77 million).
But three years behind schedule, the Museu do Amanhã ("Museum of Tomorrow"), the second in Rio's renovated port district, will finally open its doors to the public on Saturday (19).
Designed by the Spanish architect Santiago Calatrava, internationally famous for his spectacular and expensive projects, the building appears to float over the Guanabara Bay. To support it, 30,000 meters of underwater pillars were installed.
"At this time, when so much discussion is given to what will happen to the planet, to humanity, the penny dropped: why don't we make a science museum that departs from the perspective of sustainability?," says Hugo Barreto, general secretary of the Roberto Marinho Foundation, a partner of the city government in the development of the museum.
"The conceptual foundation of the museum is that tomorrow isn't a date on the calendar or a place, it is a collective construction of our civilization," says the museum's curator, the physicist Luiz Alberto Oliveira.
It is worth coming to see Calatrava's building alone. The 15,000m2 structure juts out into the Guanabara Bay, surrounded by a reflecting pool, gardens and cycling infrastructure. Its futurist design is inspired by natural forms, and like a living creature, it changes its appearance, thanks to a moving roof.
Calatrava has been criticized in the past for projects that have been completed late and in some cases with structural problems.
Examples include the Ponte della Costituzione, in Venice, a bridge which had structural flaws, and the Palau de les Arts Reina Sofia opera house and cultural center in Valencia, Spain, which was interdicted after sections of the mosaic tile roof crumbled and fell off.