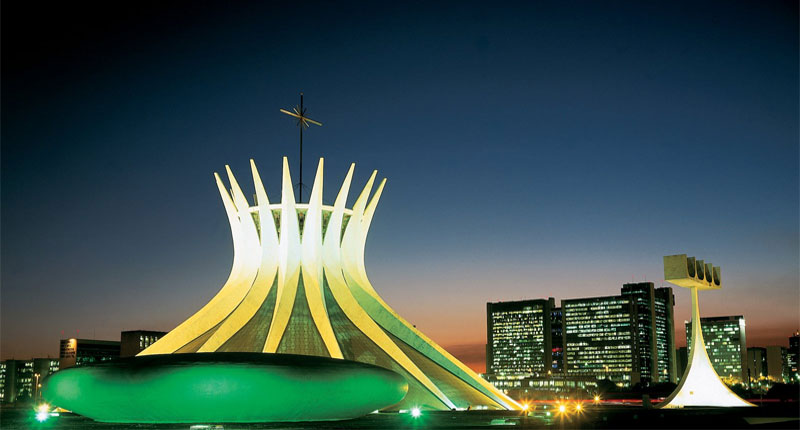 When you plan your vacation to Brazil, make sure Brasilia is on your destination list. Brasilia is the capital city of Brazil, and it is a fun place to visit. Many travelers visit Brasilia for the food, the spectacular sights to see, and the rich culture. Regardless of what brings you to Brasilia, you will find something to do while on vacation. Be sure to plan ahead when you book your plane tickets and make your hotel accommodations.
History of Brasilia

Rio de Janeiro was Brazil's center of government until 1960, when it was replaced by Brasilia. Originally, Brasilia was constructed as a place for government authorities and staff to live, but during the construction period, Brazilians from all around the country migrated to the area. Many of the migrants, who were referred to as candangos, were supposed to leave Brasilia once the city was finished, but that did not happen. A majority of the migrants did not have the money to leave, and others wanted to stay for a chance at a better life. Small villages were built in order to accommodate the migrants that did not leave Brasilia. More and more migrants began to flock to Brasilia due to the opportunities; therefore, the villages grew, eventually becoming the Cidades Satelies (Satellite cities) of Brasilia.
Fun Fact: Even though Brasilia is Brazil's capital city, this location is not actually a city; it is an administrative district of the Federal District of Brazil.
What to do in Brasilia
Brasilia is known for its modernist lines, in addition to its futuristic design. Be prepared to be amazed by the imaginative monuments, along with the innovative buildings while on your trip to this Brazilian destination. Some of the most popular tourism attractions include the glass-box Palacio de Alvorada, the Cathedral of Brasilia, and the lunar-esque Complexo Cultural de Republica. If you want to go out for a night of fun entertainment, Clube de Choro is a great venue to visit.
Hotel Accommodations
There are a variety of hotels that you could stay in while on vacation in Brasilia. Some of the best hotels include Royal Tulip Brasilia Alvorada. This hotel has an amazing staff, the rooms are great, and there are plenty of amenities. Enjoy the outdoor pool, as well as the Nuwa Spa. If you want to stay in a hotel that is known for its great ambience, superb amenities, and excellent hospitality, then you will love the Naoum Plaza Hotel.
Brasilia has various hotels that can accommodate you and your traveling party, regardless of when you plan your trip, or how long you will be on vacation. There are a variety of venues that can provide you with a relaxing atmosphere, surrounded by great views and excellent customer service. You can rent apartments and homes if you do not prefer to stay in a hotel.
Weather in Brasilia
Knowing the weather before you travel to Brasilia could help you decide which season is best for you. For example, you may love the rain and want to travel during this season, while other travelers may want to visit during the dry months. If you want to avoid the rain, June is the month with the lowest rainfall, whereas January is the month with the highest rainfall in Brasilia. If you travel during the months of May to September, this is known as dry season; October to April is the rainy season.
Traveling in Brasilia
When you travel to Brasilia, you will need to find great flights, and tickets that are affordable, regardless of what season you are choosing to travel during. You can find a vacation package through a travel agent; these packages typically include hotel and airfare. Some traveling agencies will even help you secure a Brazil Airpass before you schedule your trip. It is important to obtain your Brazil Airpass as soon as possible; this airpass must be purchased outside of Brazil.
Plan Now
When traveling to the beautiful Brasilia, you will enjoy the tourism, and the ambience. Take a chance to see what makes this location a must-see vacation destination. You will enjoy the beauty of this Brazilian city, as well as the rich culture.