Chapada Diamantina: A place with stunning Landscape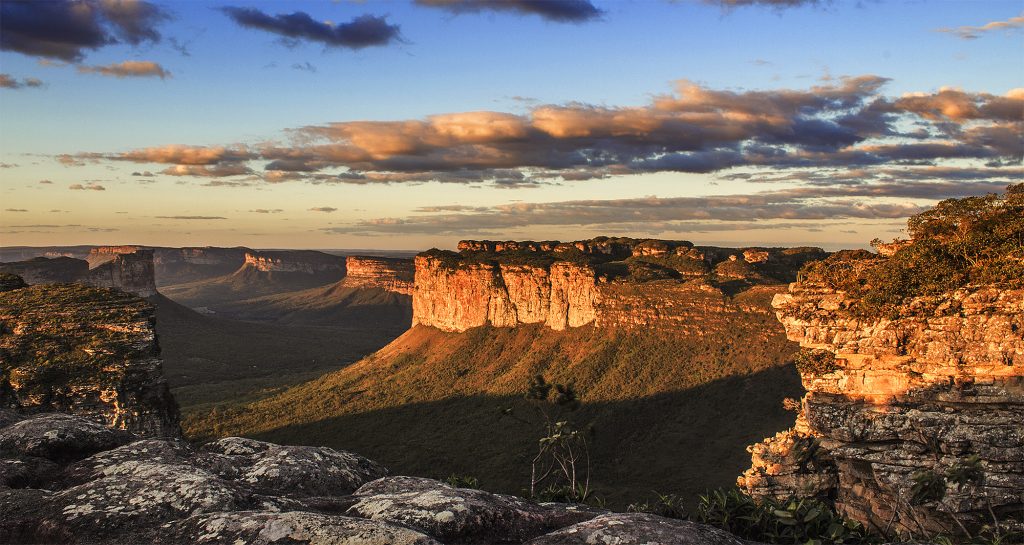 Brazil is blessed by mother nature and this can be seen in the country everywhere, you can see enormous beauty, landscape and scenic view wherever you put your eyes. One of the best destinations to see the landscapes within the country is Chapada Diamantina. It is also known as Diamond highland or plateau of diamond, it is Diamantina after 1844 when diamond was first discovered here by the miners. The place is located in Bahia, in eastern Brazil, it is one of the most pristine national parks of Brazil, it is famous for PocoEncantado and the Poco Azul, which is large water cavity filled with crystal clear striking blue water. Chapada Diamantina is surrounded by rock formations, water bodies, caves and other nature's blessings, also thisplace is home for almost 350 bird species. It is also famous for Cachoeira da Fumaca waterfall which is highest water fall of state of Bahia, it also has other tourist spots like natural pools such as devils pool and black water pool, the vast sandstone caves and old diamond mining town. The best time to visit the place is eitherNovemberwhich is a bit rainy and pleasant season, or February, march which both are perfect in terms of climate.
Let's have a look on our three-day itinerary plan to know more about Chapada Diamantina
Day 1:  Brace your self for this new experience, get ready for the first day of tour, the tour starts with Cachoeira da Fumaca waterfall. Arrive at the place after two hours of driving. The road to Cachoeira da Fumaca waterfall is little difficult, but don't worry once you reach the place it will vanish your tiredness. Cachoeira da Fumaca waterfall is the highest waterfall of the state, it is so huge that the water which comes from the fall evaporates and turn into clouds before reaching the bottom. Choose one rock and sit back, relax and enjoy the breathtaking view, mesmerizing sound, trust us you will feel relaxed when the water showers coming from waterfall will soothe you.
Our next destination will be PocoEncantado and Poco Azul, both are crystalline water well, they are so crystal clear that when sunlight passes by the well emits the turquoise blue color of water. PocoEncantado is so pristine, you can see your illusion in crystal clear water, even when the well is 61 meters deep. Enter clean water to have this enchanting experience.
Day 2:  On the second day of the tour, the first point of attraction is Gruta Lapa Doce, it is the third largest cave of Brazil. And do believe it is incredibly beautiful. To reach the cave you have to hike a trail, in your way you will get to see variety of Flora which fills the color in path. The cave is carved with pictured of animals like Chandelier, lion, frog, and angels. Control your breathes for sometime and enjoy the deep darkness inside the cave without a single ray of light.
The second point of attraction for the day is Gruta da Torrinha, this is another cave situated in chapada, it has a huge variety of bromeliad and aragonite which is similar like glass flower.
Day 3: Our last day of the tour starts with Morro do Pai Inacio, this place a different story, stood at a place and have a look around, you will see huge variety of bromeliads, cactus, orchids and other vegetation found only at that place. Sit down on a rock and feel the fresh vibes, inhale some fresh air and exhale stress, at the end of the day witness the unforgettable sunset at Morro do Pai Inacio.
Points of Attraction
Cachoeira da Fumaca waterfall
PocoEncantado
Poco Azul
Gruta Lapa Doce
Gruta da Torrinha
Morro do Pai Inacio