A "Brazillion" Reasons to Visit Brazil… World Cup or Not
A "Brazillion" Reasons to Visit Brazil… World Cup or Not
So, you didn't make it to Brazil for the World Cup? No worries! The South American nation's beautiful beaches, cosmopolitan cities and natural wonders are worth the trip no matter when you decide to go. Hotel search trivago brings you just a few of the "Brazillion" must-see sights in and around the twelve cities that took center stage during the tournament.
WHAT TO DO: Take in the city's natural beauty while walking through the second largest urban park in Brazil, the Parque das Dunas. A bevy of museums, a historic center dotted with colonial architecture and the largest cashew tree in the world are also must-see sights in the city.
GETAWAY: Just a few miles from Natal, Pipa Beach (seen above) is one of the most famous and cosmopolitan Brazilian beaches, thanks to crystal-clear waters, white sand and stunning 10-meter-high cliffs.
SALVADOR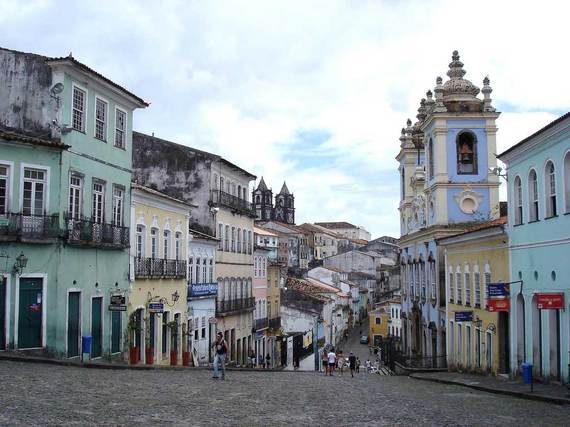 © Fernando Dall'Acqua via Flickr
WHAT TO DO: Colorful houses, historic monuments and streets steeped in history await you in Salvador's historic center. Known as the Pelourinho, the UNESCO World Heritage Site gives visitors a glimpse into life in South America during the 17th, 18th and 19th centuries.
GETAWAY: For those who prefer the water over history, Praia do Forte beach is an hour drive from the city. The Estrada do Coco (Coconut Road), will lead visitors to more than 7 miles of beaches and several natural pools formed by the reefs along the coast.
WHAT TO DO: Manaus may be an isolated metropolis in the heart of the Amazon rainforest, but there is much to see and do here. The Mercado Adolpho Lisboa – the city's largest market – the Rio Negro Palace cultural center, Amazon Opera House, Adolpho Ducke Botanical Garden, museums and countless shopping centers will keep you very busy during your stay.
GETAWAY: As the largest city in the Amazon rainforest, Manaus is the perfect jumping-off point for cruises on the Amazon River (seen above), jungle tours, fishing excursions and more, which depart from the city daily.
WHAT TO DO: Fortaleza may not be on your travel radar, but it is a favorite among Brazilian tourists. It's no wonder; historic landmarks, world-class shopping, urban beaches and more are all at your fingertips. A must-try while in town – buggy-riding and sandboarding down the city's famous dunes.
GETAWAY: Head to nearby Beach Park (seen above) – the largest aquatic park in South America and home of the biggest free-fall in the world. Thrill seekers won't be disappointed by this 135 foot high water slide!
RECIFE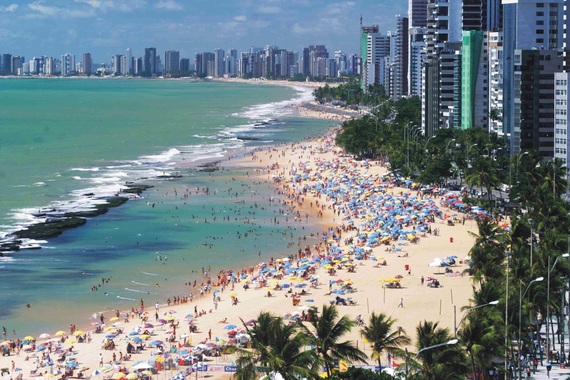 © Recife Dept. of Tourism
WHAT TO DO: Known as the "Venice of Brazil," visitors to Recife may feel like they've landed in Europe instead of South America. A stroll through Old Recife to see the city's many museums, cathedrals and historic architecture is a must. Looking for more excitement? Recife's many dance clubs, bars and beach parties will keep you more than entertained.
GETAWAY: Lovers of history and culture should travel just a few miles from Recife to the colonial village of Olinda, famous for its historic architecture and "Frevo Dance," which was declared an Intangible Cultural Heritage by UNESCO in 2012.
WHAT TO DO: Belo Horizonte is the bar capital of Brazil, so after a quick toast of Caipirinha at one of the more than 12,000 neighborhood bars, make sure to visit the Minas Gerais Museum of Natural History and Botanic Garden and the city's Pampulha district — home to Mineirão stadium — one of the world's largest soccer stadiums.
GETAWAY: Take a day trip to Ouro Preto (seen above). The UNESCO World Heritage Site famous for its cobblestone streets and Baroque architecture is a mere 1.5 hour drive.
SÃO PAULO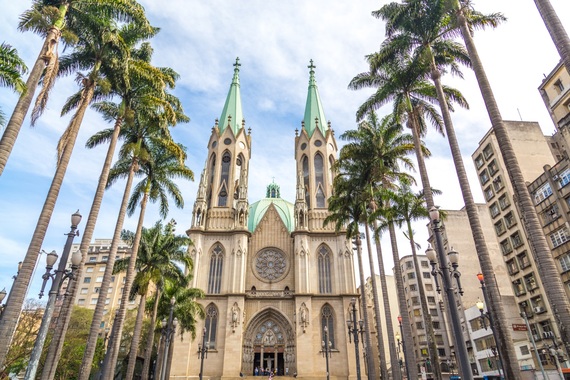 © filipefrazao via Fotolia
WHAT TO DO: The gorgeous Neo-Gothic style São Paulo See Metropolitan Cathedral (seen above) is a must-see. Meanwhile, soccer fans that didn't make it to the World Cup can still get their football fix at the city's Museu do Futebol (Soccer Museum), which is housed under the stands of Pacaembu Stadium. The 1.7 acre museum walks visitors through the history of Brazilian soccer via interactive video installations and memorabilia.
GETAWAY: A 2.5 hour drive from São Paulo, Campos do Jordão is a Mantiqueira Mountain getaway for locals that boasts European-style architecture, hiking, mountain biking and even the occasional snowfall.
RIO DE JANEIRO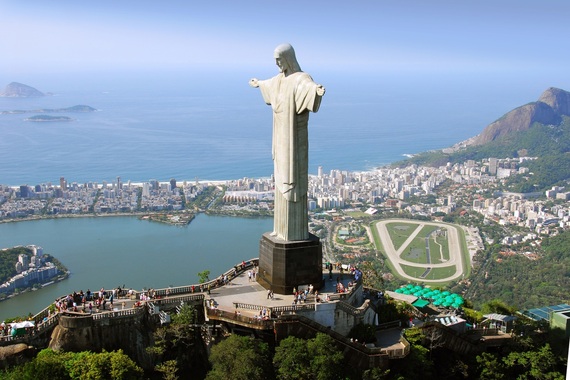 © sfmthd via Fotolia
WHAT TO DO: On a clear and sunny day, visit Ipanema or Copacabana beaches, hike to the Cristo Redentor (Christ the Redeemer) statue and take a cable car ride to the top of Morro do Pão de Açúcar (Sugarloaf Mountain) for a panoramic view of the city. Wrap up your visit by watching the sunset at Arpoador Beach.
GETAWAY: If you have time, plan a day trip or weekend getaway to either Angra dos Reis, Armação dos Búzios, Paraty and Cabo Frio – three nearby resort towns that offer spectacular beaches and a respite from the busy streets of Rio.
WHAT TO DO: Designed by internationally-renowned Brazilian architect Oscar Niemeyer in 1956, Brasília boasts some of the world's finest modern architecture. Visit the Catedral de Brasília (seen above), a breathtaking concrete and glass cathedral. A walk around Paranoá Lake is the perfect way to see many of other engineering wonders, including the presidential palace and the University of Brasília.
GETAWAY: Want to escape the city? Take a two-hour bus ride from Brasilia to Formosa, a small town with access to Salto de Itiquira – a gorgeous public park with a 295-foot waterfall and swimming holes.
WHAT TO DO: A visit to Porto Alegre isn't complete without stopping by the city's Usina do Gasômetro (seen above). The former power plant that was converted into a center for arts and culture is also the perfect spot to take in a sunset over the Guaíba River. Another not-to-miss is the Porto Alegre Public Market, which is a famous meeting place for locals catching up over coffee or dinner.
GETAWAY: Take a day trip to either Gramado or Canela, two popular tourist towns for Brazilians during winter. They are also home to some of the best chocolate factories in the country.
WHAT TO DO: Take a stroll through one or more of the 15 parks and 33 preservation areas around the city, including the Botanical Garden. During your walking tour, must-see sights include the Wire Opera House (seen above) and the Oscar Niemeyer Museum, which was designed by the famous architect and houses artists' work from around Brazil.
GETAWAY: The Curitiba-Paranaguá Train journey – a 62 mile scenic trip by rail through the mountains of Serra do Mar – departs from Curitaba regularly and is one of the best ways to see Brazil's coastal mountain range.
WHAT TO DO: Visit the Basilica do Senhor Bom Jesus de Cuiabá, a beautiful cathedral in the heart of the city that features Art Deco design and gorgeous stained glass windows. Then, head to the heart of Cuiabá – Praça de República – for a walking tour of the city's many museums, shops and restaurants.
GETAWAY: Outdoor enthusiasts should travel 40 miles from Cuiabá to the Chapada dos Guimarães National Park (seen above), home to waterfalls, rock formations, hiking trails and caves filled with crystal clear water.