Rio De Janeiro, Rio de janeiro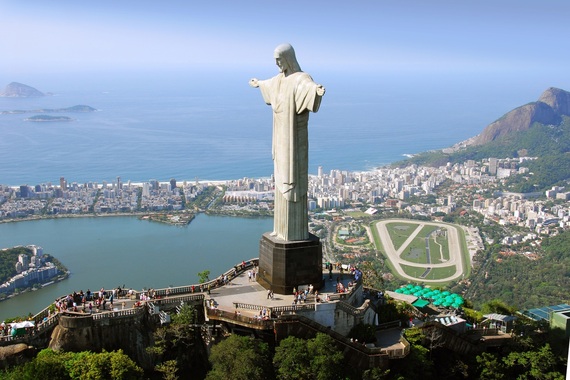 The time to take a vacation is now, and the destination should be Brazil. When you
choose a city in this fabulous country, Rio de Janeiro should be high on your must-go
list. This city is known for its sparkling water, picturesque scenery, great tourism, and
friendly people. The neighborhoods in this city are filled with historical landmarks, and
the rich sounds of the night life. Rio de Janeiro has a reputation for being one of the most
striking cities within the world, so start planning your trip to this Brazilian city today. Be
sure that you purchase a Brazil Airpass to save yourself money on flights and tickets.
History of Rio de Janeiro
Approximately 500 French colonists occupied this area in 1555. Decades later,
Portuguese settlers came into the territory and it started to grow. This was due to the
sugarcane that was planted in the area; the rich soil discovered by the settlers helped the
economy grow. As the years went by, this Brazilian city began to engage in diamond and
gold mining, which brought more money and people to the area. Coffee plant expansions
were also implemented, and the city began flourishing. Tourism is a major industry in
Rio de Janeiro, with countless tourists coming to this vacation hot spot year-after-year.
Fun Fact: The people of Brazil call Rio de Janeiro Cidade Maravishosa, which means
Marvelous City.
What to do in Rio de Janeiro
When traveling to Rio de Janeiro, there is no shortage of activities to do, or sights to
see. You can visit some of the historical sites to learn more about the history of this
remarkable city. You could also tour the magical towns and see the beautiful atmosphere
that is full of this city's rich culture. The beaches on this island are truly amazing, and
many tourists spend most of their time on the beaches relaxing on the sand, in the waters,
or hanging out at one of the bars or restaurants that line up and down the beach shores.
Some of the most popular beaches in the downtown area of Rio de Janeiro are Leme, Sao
Conrado, Abrico, Flamengo, and Ramos.
Some of the must-see sights while on your trip to Rio de Janeiro include Marcana
Stadium, the botanical garden Jardim Botanico, Lagoa Rodrigo de Freitas, Parque Lage
park, Theatro Municipal, Museu Historico Nacional, and more. Carnaval in Rio de
Janeiro is a beautiful experience that many tourists remember for the rest of their lives.
Street parties take place in this city year-round.
Hotel Accommodations
Finding a hotel in Rio de Janeiro is not hard to do; in fact, you can find a hotel that fits
your budget, as well as a venue that has the amenities that you desire. Some of the most
popular hotels and vacation rentals in Rio de Janeiro are Rio Copacabana Apartments and
Oasis Collections. If you want to stay in a popular area of this city that is more expensive,
Zona Sul is the best area with luxury hotels, resorts, and vacation rentals. In Brazil, this
city is one of the most expensive for hotel accommodations, which is why there is a
shortage on cheaper hotels. However, if you book well in advance, you can find some of
the best deals on hotels and resorts.
Weather in Rio de Janeiro
When you plan to take a trip to Rio de Janeiro, you need to know as much about the
weather conditions as you possibly can. This could be the difference between a great
vacation, and a horrible trip. The weather will have an impact on your vacation from
the time you fly into the island, until you leave. What you wear, what you do, and how
comfortable your flights are will all depend on the weather in Rio de Janeiro.
If you travel during the months of December and March, this is considered high season.
However, on average, the temperatures in Rio de Janeiro are always high. You can
expect the most rainfall between the months of January and April; the wettest month in
this Brazilian city is April. The driest month in Rio de Janeiro is December. The coolest
month in this city is August, while the warmest month is February.
Traveling in Rio de Janeiro
The planning stage of your vacation will also include scheduling flights and booking
tickets for your trip. The prices to fly between the various cities in route to Rio de Janeiro
can be expensive, especially if you do not book your flights well in advance. However,
when you purchase a Brazil Airpass, you could save money on tickets by locking in the
rates. You will also have more flexibility with your flights when you purchase a Brazil
Airpass. This airpass must be purchased outside of Brazil. Ask your travel agent for more
information pertaining to the Brazil Airpass.
Take the Trip of a Lifetime
Travel to Rio de Janeiro to experience all that this wonderful city has to offer. You can
enjoy the food, party in the streets, see the beautiful sites, and visit some of the historical
neighborhoods. Regardless of what time of the year you travel to Rio de Janeiro during,
you will always find attractions and adventurous activities to enjoy.