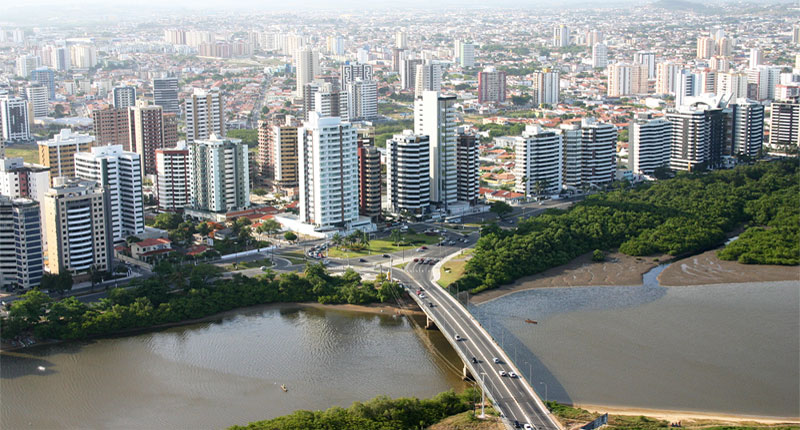 When you are visiting Brazil, you should spend a night or two in Aracaju, especially while you are in transit between Bahia and Alagoas. Aracaju is a beautiful city in Brazil that has a lot to offer travelers, from its luxurious hotels, fine cuisine, rich culture, and picturesque views. You can find a variety of restaurants and hotels near the beaches.
History of Aracaju
In 1855, the city of Aracaju was planned; it was designed to be the capital of Sergipe, replacing the old capital, Sao Cristovao. Through the years, this city has received many new developments, including streetcars in the 1900s. These urbanizing elements helped revive the city of Aracaju, especially after an epidemic broke out the convinced many citizens to flee. Despite what many people had believed, Aracaju was not an omen, and the population would receive major growth years after many had fled.
In 2006, a bridge was built over the Rio Sergipe that connected Aracaju with Barra dos Coquieros – a suburb in Brazil. This allows for more steady developments to come into this quiet, coastal area.
Fun Fact
Ara means "macaw," and caju is "cashew." This is a fruit native from Brazil.
There are a lot of Macaws and cashew trees in Aracaju.
What to do While in Aracaju
When you travel to Aracaju, there is not shortage of sights to see, or things to do. You could visit one of the beaches and relax with your family, or go surfing with your friends. There are also parks to visit while you are on vacation in Aracaju. If you like to boat, you can go boating and sailing when you travel to this Brazilian city. Eco-tourism in Aracaju is something that is available as well. You will have the opportunity to visit some natural environments and parks that are threatened. These areas are protected for the well-being of the local people.
If you want to purchase some of the foods and crafts that represent the culture of Aracaju, be sure to visit the Central Market. The regional items sold at this market are great; you can have lunch at the market, in between shopping and exploring.
Santa Luzia is the most popular beach in Aracaju. You can go sailing on this beach, and you can also surf. Aruana Beach is also popular in this Brazilian city.
Be sure to take advantage of the nightlife in Aracaju. Club Passarela de Caranguego is a disco club that many tourists and locals love to party at.
When you travel to Aracaju, there are various hotels that you and your family could stay in. Each hotel in Aracaju offers travelers something different, from the décor, all the way to the beach fronts. If you stay at the fabulous Aquarios Praia Hotel, you can stay in a room that has sea-facing balconies and pool bars. If you choose to stay at the Real Classic Hotel, you will be a few steps away from the beach. This four-star hotel is only minutes away from downtown, and majority of the rooms at the Real Classic Hotel offer guests a panoramic sea views. The Radisson Hotel Aracaju is a four-star hotel opposite of Atalaia Beach, and it offers free Wi-Fi, parking, and breakfast.
There are many more hotels that you can choose from when you plan your vacation to Aracaju; each offering something that you and those traveling with you can enjoy, regardless if you are traveling with the family, or a group of friends.
If you prefer more privacy, be sure to check out the vacation home rentals offered by citizens of Aracaju. You can book these vacation rentals directly, or you could book the vacation home through a travel agency.
The temperatures in Aracaju are almost always high. If you travel to this city between the months of March and August, expect to experience a lot of rain. You will need to pack rain-boots and raincoats if you are going to travel to Aracaju during the rainy seasons.
The warmest month to travel to Aracaju is December, while the coolest month is August.
The wettest month for this Brazilian city is May, while the driest month is November.
Finding the best deal for your trip to Aracaju is not hard to do. In fact, there are various flights and tickets that you could book for an affordable price. You want to make sure you have a Brazil Airpass when you travel to Aracaju. You could book your vacation accommodations through the Brazil Airpass website, or you can call to speak with an agent who will book the flight and tickets for you.
The airpass is great for individuals who want to visit multiple cities near Aracaju. When making your reservations, remember that you can book up to four flights without paying any additional costs. You will need to purchase your Brazil Airpass outside of Brazil.
You cannot share an airpass with other people; each traveler will need to have their own
Plan your Trip Now
When you are planning that next romantic vacation, or a trip for the entire family, be sure to add Aracaju to the top of your list. Find the best affordable flights and tickets, and purchase your Brazil Airpass to travel from city-to-city within Brazil for an affordable rate. Enjoy all of the sights, and the wonderful cultural experiences that Aracaju has to offer. Do not forget to take advantage of the eco-tourism.