Boeing and Embraer closer to deal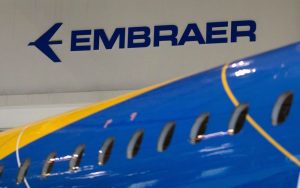 SAO PAULO (Reuters) , April 20, 2018 – Talks aimed at a tie-up between planemakers Boeing Co (BA.N) and Embraer SA (EMBR3.SA) that also involve Brazil's government are at an advanced stage, O Estado de S. Paulo newspaper reported on Friday, citing unnamed sources.
The Boeing and Embraer partnership would create a new company in which the U.S. planemaker would have an 80.01 percent stake and the Brazilian firm 19.99 percent, the paper said, adding this was a model supported by the Brazilian government.
Boeing, Embraer and Brazil's Defense Ministry did not have an immediate comment on the report.
The two jet manufacturers said in December they were discussing "a potential combination," but the Brazilian government, which holds veto power over strategic moves at Embraer, needs to approve the deal.
The paper said one of the points still under discussion was the appointment of a government representative to the board of the new company. Boeing is against this, O Estado said, but the Brazilian government is strongly in support of the move.
The joint venture will only include Embraer's commercial jet operation, and exclude its defense and executive jet businesses, O Estado said. Boeing's initial expectation was to include all three Embraer business units in the tie-up, the paper said.