Airline Tickets to Brazil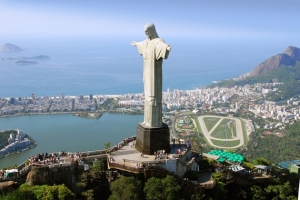 Brazil is one of those exotic locales you may have only ever dreamed of visiting. The beautiful beaches, the scenery, the exotic night life of Rio de Janeiro, and even Carnival. It's one of the most striking places in the world. Well, what are you waiting for? Why don't you purchase a few airline tickets to Brazil today? If you're still considering if you should visit or not. Here's a little bit of info on why you should visit Brazil.
We know taking a vacation to another country can get a little pricey. We don't blame you! That's a lot of money you're making investing in new memories and a chance to relax. That's why we have travel agent assisted discount fares. Our travel agents are professional, friendly, and ready to help you at a moment's notice. They can help you find discount airfare to Brazil so you can save more money for souvenirs, going out to eat, and doing other activities in Brazil!Al you have to do is complete the form and a real person with booking and pricing information will get back to you. It's simple, easy, and convenient!
You're probably wondering why you should book airline tickets to Brazil as soon as possible. Well, one of those reasons is Carnival. Never heard of it? Carnival is considered the world's biggest party that goes down in Rio de Janeiro. The party for Carnival goes on for several nights with people lining the streets. There is culture, music, and vibrant colors surrounding everyone during the entire celebration. It's a party no tourist should miss. It's one of those once in a lifetime experiences you have to have. It can be expensive to attend Carnival just because it's so popular. It's difficult to know what you need and what you need to do when you attend. Luckily for you, we have experts who can help you to travel to Brazil, get your airline tickets, and much more.
At the moment we are also offering packages for the 2016 Carnival. It includes hotel taxes, fees, hotel accommodation, and daily buffet breakfast. All you have to do is get in touch with us so we can book your trip to Brazil today!
Eco Travel for Brazil Airlines
We also offer Eco Packages in Brazil! Don't know what those are? Well, it's a travel program custom made to suit a client's needs travel budges and includes a hotel category to. All you have to do is contact us so our agents can help you with activities, selecting flights, lodges, and hotels.
Amazon
The Amazon is the world's largest tropical rain forest. It is unequaled as it holds one third of the planet's living specials and natural resources. Even the Amazon Basin alone holds a fifth of the world's fresh water supply. There are 'roads' of water that lead all the way to the heart of the jungle. The lodges that can accommodate you in the jungle offer security and comfort for those who love to hike so they can discover the limitless fauna and flora.
Amazon EcoPark Lodge
The Amazon EcoPark Lodge is one of the higher end lodges that is close to Manaus. It's located on the Taruma River, one hour away form the airport. The lodge is located on a private reserve. The igarape have exclusive use to lodge, and it helps to give the lodge a secluded feeling. During the dry season there are a number of beaches directly across from the lodge. The vegetation is lush and gorgeous to behold. There are also natural pools you can swim in located near the lodge.
The bungalows are built for comfort and tastefully decorated. They still maintain their original and rustic atmosphere though. There are several creeks for canoeing, diverse vegetation, natural savannas, and virgin forests. The Amazon EcoPark Lodge is recommended for those looking for a romantic getaway.
Amazon Eco Lodge
The Amazon Eco lodge is another gorgeous rain forest lodge that is located 50 miles away from Manaus. It's right on the south bank of the Amazon River. There are rustic floating cabins that have air condition and baths despite how remote this lodge is. It's the perfect spot for bird and monkey watching to.
The Amazon Eco Lodge consists of a central "open air" swimming module. So you can have a nice dip in the warm river waters to add to your experience. This wonderful floating hotel has a maximum capacity of 36 people in double rooms, with a total of 18 rooms. Due to the lodge being so far away from Manaus you have a higher change of seeing more wildlife here.
There is so much more to see in Brazil. We hope you come by for a trip soon!