Air France-KLM group intensifies development in Brazil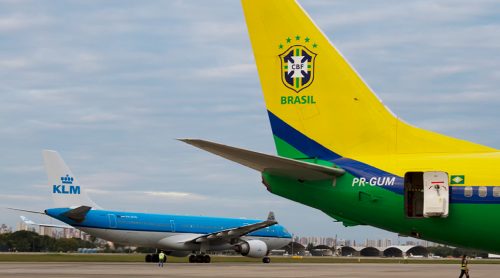 Since May 3, the Air France – KLM group has been connecting both Paris Charles de Gaulle Airport (CDG) and Amsterdam Airport Schiphol (AMS) to Fortaleza in Brazil.
KLM offers three weekly flights (on Mondays, Thursdays, Saturdays) on an Airbus A330 with 267 seats, including 18 in World Business Class and 249 in Economy Class.
On the other hand, JOON, a subsidiary of Air France, now offers two weekly flights (on Fridays and Sundays) to Fortaleza and will upgrade to three weekly flights during the winter of 2018/19. These flights are operated by the Airbus A340 with 278 seats, including 30 in Business Class, 21 in Premium Economy and 227 in Economy.
In addition to offering the two transatlantic routes mentioned above, Air France-KLM and its Brazilian partner GOL, the two of which have a codeshare in the region, are launching a new strategic hub in Fortaleza. This new hub offers Air France, KLM, Joon, and GOL customers simplified connections, a single check-in, and a shorter travel time between Europe and six destinations across the northeast of Brazil. Brazilian destinations include Belém, Brasilia, Manaus, Natal, Recife, and Salvador.