Rio Carnival: The UK woman leading the dance in Brazil
From BBC: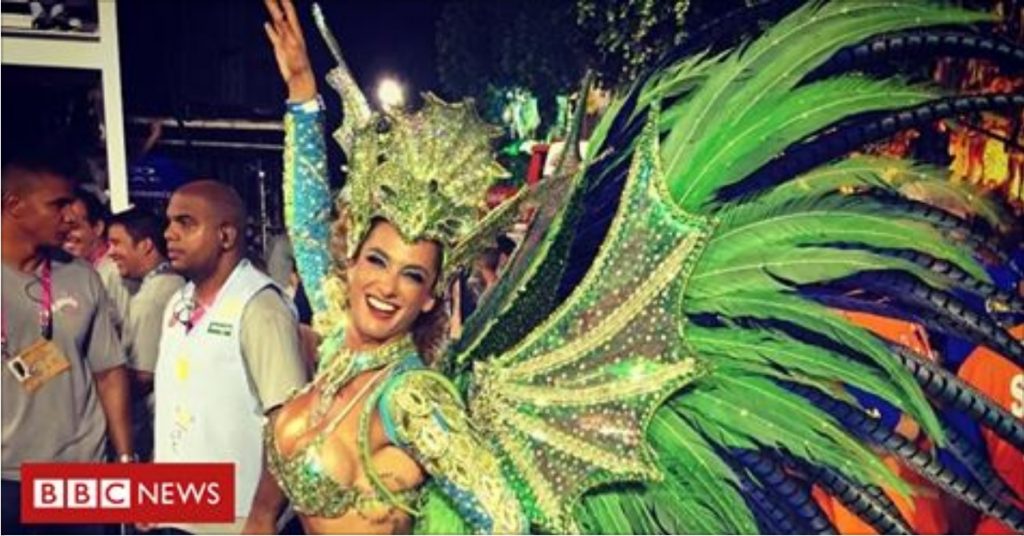 Samantha Mortner always thought she would end up leaving London at some point, being "a real wimp" in the cold weather.
But 12 years ago, as the director of a PR agency in west London, she could hardly have pictured herself like this: wearing a bikini woven with 12,000 tiny stones and a headdress with 500 pheasant feathers, dressed up as Yemanja, the goddess of the sea, revered to by Afro-Brazilian religions.
The Londoner was chosen to be the muse of one of Rio de Janeiro's samba schools, leading out its first float at the Sambadrome – the world-famous carnival strip.
The 37-year-old, now known as Samantha Flores after her first marriage, has been living in Rio since 2006.
But at the Imperio da Tijuca samba school, she's best known as "musa gringa" the first non-Brazilian dancer to take a lead role at "the biggest party on earth".
As the schools muse, Ms Flores enters the wide Carnival strip on her own to summon in the first float, cheered on by thousands of people on the stands, and performing quick and gracious samba moves to set the tone for the 80-minute-show – keeping the energy going all along the way.
Being accepted as a foreigner on this stage is no small feat.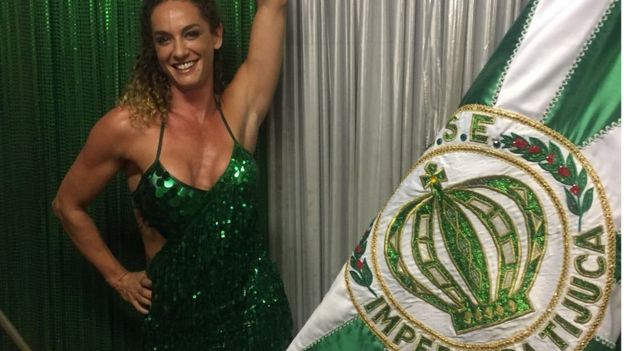 Brazilians are proud of carnival and highly demanding with samba. Dancing the style properly is not easy even for locals. But in the closely-knit communities of Rio's samba schools, many learn the moves from a young age, and dance with stunning ease.
Ms Flores shows the goose bumps on her arms as she describes her first experience as muse last year with Imperio da Tijuca.
"It's like you're a popstar with 90,000 people standing up and screaming for you. Of course it's not for you, it's for the samba school, but the sensation is unique."
Carnival obsession
Ms Flores says she grew up as "a nice Jewish girl from north London" and left her home in Kentish Town to visit Rio on holiday in 2006.
"Within 24 hours I knew I was home," she says.
During the first year, she lived in Rocinha, a sprawling shanty-town famed to be the largest in the country. She worked with an NGO teaching English and one of her students was a "fantastic" samba dancer, she recalls.
They made a deal: if the Brazilian taught her how to samba, she would help her learn how to give lessons in English to tourists.
"I was immediately bitten by the bug," Ms Flores says. She grew "obsessed" with Carnival and has been taking part in official parades since 2011.
"She can dance more samba than many Brazilians," says stylist Sandro Carvalho, responsible for the outfits of the main female characters at Imperio da Tijuca.
It's not just about talent, he says, but also her commitment and bonds with the samba school.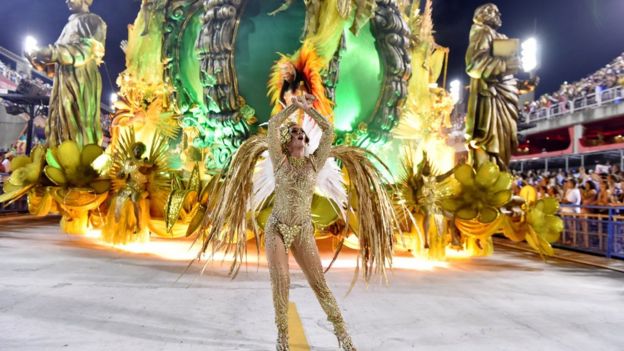 Ms Flores attends the rehearsals regularly at the group's headquarters in Morro da Formiga, one of Rio's favelas. Shootouts are known to happen there, but she says she has never felt exposed to danger.
"I feel very welcomed. People call me 'gringa' and joke around about me being a foreigner, but it has never been an issue," she says.
"Although sometimes the older members of the school look at me as if asking: 'what is this English lady doing here in Morro da Formiga?'".
She continues taking samba lessons to improve her skills and climb the ranks of the samba schools' very strict rankings.
'Freeing' experience
In the female hierarchy of Brazilian Carnival, Ms Flores' current role comes second only to the 'rainha da bateria', the queen, who leads the group of drummers – the heartbeat of the parades.
For now she says being a muse is challenging enough. She spends at least three hours a day exercising, taking boxing lessons "to tone my arms", working out Brazilian style "bums and thighs" and taking lessons with experienced carnival divas.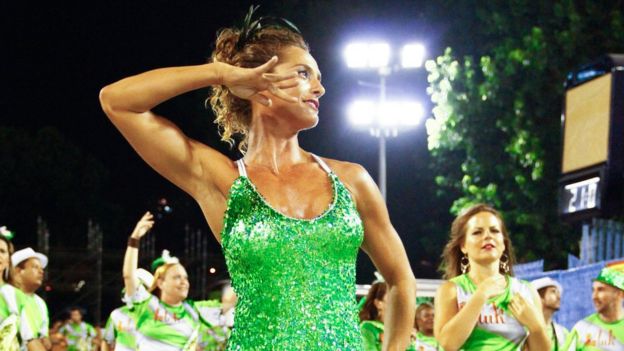 "Imagine 90,000 people looking at you in a bikini. You'd rush to the gym too!"
She thinks people in the UK may find the scant carnival attire objectifying, but to her it is not an issue.
"The women show their bodies and it's their decision," she says. "It's quite freeing."
Ms Flores who works as a real estate consultant is now starting a new business – a carnival agency called Experience Carnival Rio to chaperone tourists to the Sambadrome and try to make sure they have an experience as good as the one she has come to love.