Morro de Sao Paulo, Bahia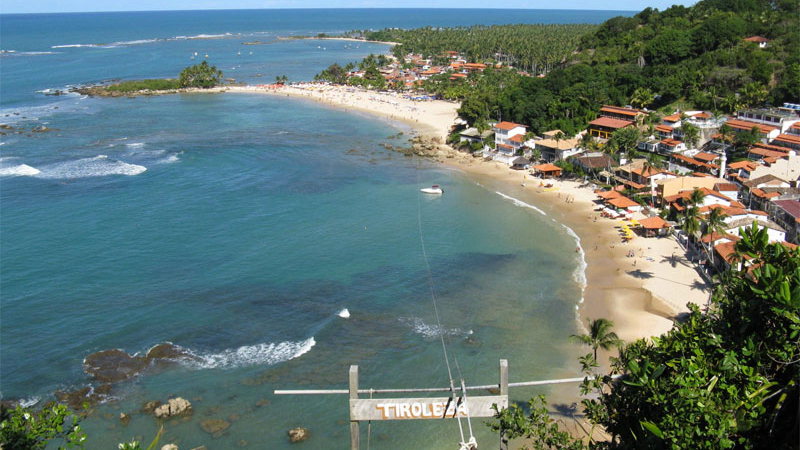 The time to take a vacation is now, and the Brazilian city that should be at the top of your
list is Morro de Sao Paulo. The tourism in this city is great, and it attracts many tourists
each year. When you travel to this town, you will have the ability to stay in the new
hotels and dine in the upscale restaurants; you also have the option to stay in, and tour,
the older pousadas and taverns. You will need to purchase a Brazil Airpass to make sure
you receive the best price on tickets and flights into Morro de Sao Paulo.
History of Morro de São Paulo
The town of Morro de Sao Paulo was founded in 1535 by Martin Afonso of Sousa. This
village was a part of the island Tynharea. It was during this period that the town began to
populate. During the early years, the natives would fish in this town as a form of survival.
After many years, there were backpackers and hippies who came to the town that had
rainforest and beaches that were yet to be explored. Many of those people loved the
beauty and charm of Morro de Sao Paulo; therefore, they left their old lives and settled in
this village. This island has no connection to the mainland, yet it remains one of the top
destinations because of its tourism and charm.
What to do in Morro de São Paulo
There are a variety of things to do, and sights to see while on vacation in Morro de Sao
Paulo. You, in addition to all those who are traveling to this Brazilian city, will need
to pay a tourist fee the moment that you step off of the plane. This fee allows Morro
de Sao Paulo to keep its tourism great for you, and the countless tourists who choose
this vacation hot-spot year after year. While traveling around Morro de Sao Paulo,
remember that there are no paved roads in the village. Even so, there are a variety of
hotels, restaurants, and many other attractions that tourist can take advantage of while on
vacation.
The famous lighthouse in this town is one of the most popular landmarks to see. It was
first spotted in 1630, and it is located beside the main entrance of the island. There are
many trinkets and touristy items that you can purchase when you go shopping at the
many shops and boutiques in Morro de Sao Paulo. Ipanema and Havaiana flip-flops are
the most popular items in this Brazilian area. The beaches in this town are named, First,
Second, Third, and Fourth Beach. You can find restaurants and shops near the beaches,
and some are located on the beach as well.
Hotel Accommodations
While you are looking for hotels to stay in while on vacation in Morro de Sao Paulo,
there are many to choose from. You can stay at a nice bed and breakfast, or you could
stay at a luxury hotel when you travel to this town. There are also homes to rent and
hotels available for an affordable rate.
Some of the popular hotels and bed and breakfast venues in Morro de Sao Paulo
include the B&B Villia- Bahia; this bed and breakfast has nice rooms, solar water, air
conditioning, and a stunning view. You could also stay in a private or shared room at Che
Lagarto Morro de Sao Paulo. If you want to stay in a hotel full of history and culture, you
should book your stay at Pousada O Casaroa; it is one of the oldest homes on the island
that has been turned into a hotel; this venue has nice rooms and great views.
Other hotels that you could stay in when you travel to Morro de Sao Paulo include
Aradhia Pousada, Perola de Morro, Pousada Barravento, Pousada Moreno, and more.
Weather in Morro de São Paulo
Before you start planning out the activities that you will participate in while you are on
your trip to Morro de Sao Paulo, and before you begin packing your suitcase, be sure
you are up-to-date on the weather conditions in this Brazilian city. If you travel to Morro
de Sao Paulo during the months of May and June, you can expect rain; these months
have the highest chances of rainfall. The coolest months to travel to this Brazilian city
during are June, August, and September. The sun will shine brightly during the day, but
temperatures will go down at night. The warmest months to travel during are December,
January, and February; expect hot weather during these months.
Traveling in Morro de São Paulo
When you travel to Morro de Sao Paulo, you want to make sure you get the best deals on
tickets. You do not want to schedule flights that are too expensive, or flights that do not
come with a fixed rate. The Brazil Airpass can lock in the rate of the flights, and it gives
you more flexibility when you take your trip. The Brazil Airpass cannot be purchased
in Brazil; therefore, you will need to look into securing your airpass before you go on
vacation. Check with a travel agent, or an airline representative, to learn more about the
Brazil Airpass. You do not want to encounter any surprises pertaining to your flights
when you travel to Morro de Sao Paulo.
Take a Trip to Morro de Sao Paulo Today
Start planning your trip to Morro de Sao Paulo today. You will have the opportunity
to see all of the beauty and charm that this island has to offer when you travel to this
vacation hotspot. Be sure to plan ahead so that you can see the best attractions, stay at the
best hotels, and receive the best deals with your Brazil Airpass.