Brazil airline Azul to suspend international flights out of main hub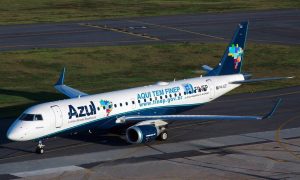 SAO PAULO, March 16 (Reuters) – Brazilian airline Azul said on Monday that it will cut its international flights out of its main hub in Sao Paulo state later Monday due to the coronavirus outbreak, a significant escalation in cancellations over last week's announcements.
Azul said just last week that it would focus its cancellations outside of its Sao Paulo hub and instead work to keep those flights in place.
As of March 17, Azul was still operating a daily flight between Fort Lauderdale and Campinas, and between Orlando and Campinas six times per week.
The airline added it would cut up to 50% of its capacity by next month, and adopt measures to cut costs. One of them is the 25% reduction in salaries of its executives.